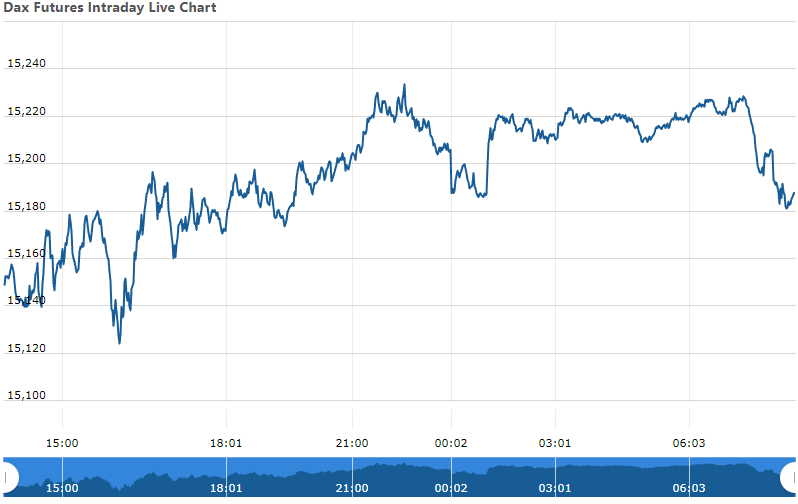 DAX Futures Update : 27 Jan. 2023
The DAX Futures is trading at 15,255.0 with +0.44% percent +66.4 point.The FTSE 100 Futures is trading at 7,755.00 with +0.23% percent or +18.00 point. The CAC 40 Futures is trading at 7,081.50 with +0.14% percent or +9.70 point.  The EURO Stoxx 50 Futures trading at 4,186.00 with +0.19% percent or +8.00 point.
TODAY'S FACTORS AND EVENTS
The S&P Global Germany Services PMI rose to 50.4 in January 2023, up from the previous month's 49.2 and beating market expectations of 49.6, a preliminary estimate showed. The latest reading pointed to the first month of rising activity in the service sector since June last year, as inflows of new orders declined at a softer pace and employment returned to growth. On the price front, input cost inflation eased to a 16-month low, although it remained high overall, prices charged continued to rise sharply. Finally, there was an improvement in business confidence.
YESTERDAY ACTIVITY
For the day Germany's DAX closed at 15,081.64 up with 0.076% percent or ?11.47 point.the FTSE 100 closed at 7,744.87 up with  0.16% percent or ?12.49 point. France's CAC 40 closed at 7,043.88 with a loss of -0.094% percent or ?6.60 point.
WORLD MARKETS
For the day the Dow is trading at 33,743.84 with 0.029% percent or +9.88 point. The S&P 500 is trading at 4,016.22 with 0.018% percent or ?0.73 point. The Nasdaq Composite is trading at 11,313.36 up with 0.18% percent or ??20.91 point.
In other parts of world, Japan's Nikkei 225 is trading at 27,312.26 with 0.30% percent or ?82.75 point. Hong Kong's Hang Seng is trading at 22,440.62 with 1.80%percent or +395.97 point. China's Shanghai Composite is trading at 3,264.81 with 0.76% percent or +24.53 point. India's BSE Sensex is trading at 60,205.06 with  a loss of –1.27% percent or ??773.69 point at 12:15 PM.