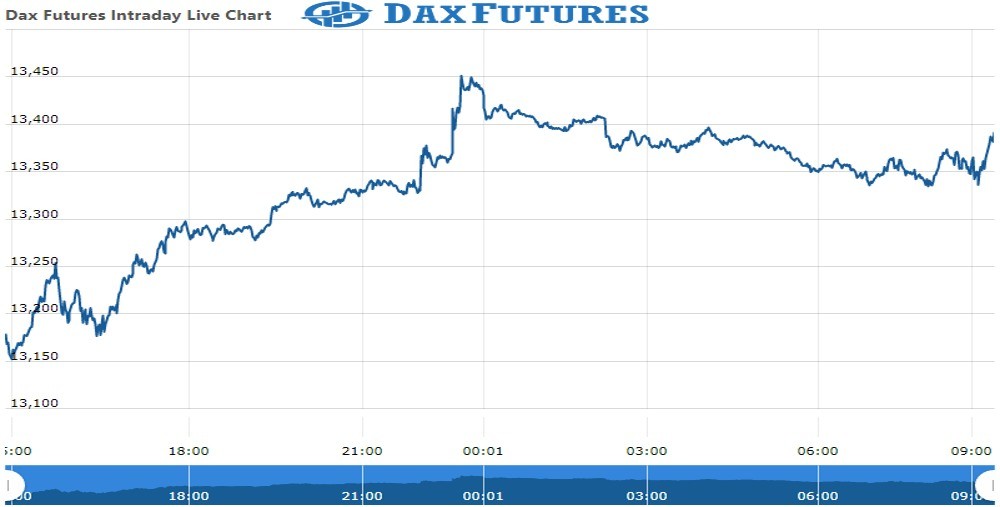 DAX Futures Update : 29 July. 2022
The DAX Futures is trading at 13,207.5 with +0.53% percent +70.0 point.The FTSE 100 Futures is trading at 7,310.50 with a loss of -0.08% percent or -5.50 point. The CAC 40 Futures is tradingat 6,397.00 with +0.33% percent or +21.20 point.  The EURO Stoxx 50 Futures trading at 3,674.00 up with +0.16% percent or +6.00 point.
TODAY'S FACTORS AND EVENTS
The harmonized unemployment rate in Germany inched down to a fresh record low of 2.8 percent in June of 2022 from a downwardly revised 2.9 percent in the previous month. The number of unemployed stood at 1.24 million, which was a slightly less than in May, amid weather conditions or strike. Meantime, the number of persons in employment was up 0.1%, following an average monthly increase of 52,000 people, or 0.1%, in the period from January to May 2022. The total number of persons in employment thus has grown since the peak of the third Covid-19 wave in Germany observed in spring 2021, largely unaffected by the further infection waves and the consequences of the war in Ukraine so far. The number of persons in employment in June 2022 thus was up by 0.3%, or 140,000 people, on February 2020, the month before the COVID-19 crisis began in Germany
YESTERDAY ACTIVITY
For the day Germany's DAX closed at 13,282.11 with +0.87% percent or +115.73   point.the FTSE 100 closed at 7,363.34 up with +0.25% percent or +18.09  point. France's CAC 40 closed at 6,339.21 up with 1.30% percent or +21.87 point.
WORLD MARKETS
For the day the Dow is trading at 32,529.63 up with +1.03% percent or +332.04  point. The S&P 500 is trading at 4,072.43 with 1.21% percent or +48.82  point. The Nasdaq Composite is trading at 12,162.59 up with +1.08% percent or +130.17 point.
In other parts of world, Japan's Nikkei 225 is trading at 27,730.78  with a loss of –0.30% percent or ?84.70  point. Hong Kong's Hang Seng is trading at 20,123.29 with a loss of –2.42% percent or -499.39  point. China's Shanghai Composite is trading at 3,250.66 with a loss of –0.97% percent or -31.92 point. India's BSE Sensex is trading at 57,288.54 up with +0.76% percent or +430.75 point at 12:15 PM.