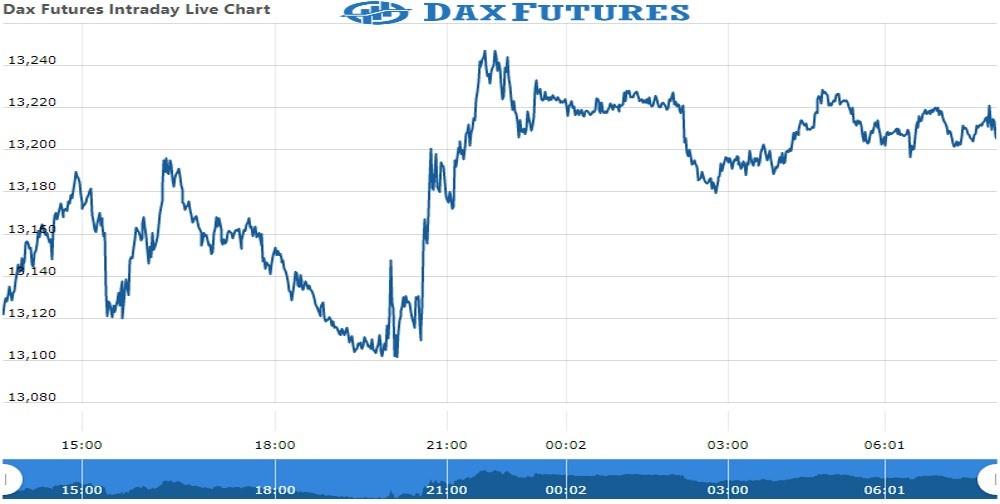 DAX Futures Update : 28 July. 2022
The DAX Futures is trading at 13,207.5 with +0.34% percent +44.5 point. The FTSE 100 Futures is trading at 7,319.20 with a loss of -0.21% percent or -15.60 point. The CAC 40 Futures is trading at 6,295.20 with +1.93% percent or +119.00 point. The EURO Stoxx 50 Futures trading at 3,626.00 up with +0.08% percent or +3.00 point.
TODAY'S FACTORS AND EVENTS
The GfK Consumer Climate Indicator in Germany fell to a new record low of -30.6 heading into August of 2022 from a revised -27.7 in June and compared with market forecasts of -28.9. The latest reading highlighted mounting recession fears and concerns over supply shortage of natural gas, with the Ukraine war and interrupted supply chains pushing up energy and food prices even further. The gauge for economic expectations dropped 6.5 points to -18.2, its lowest level since April 2020, when Germany was put into coronavirus lockdown. Also, the measure of income expectations lost 12.2 points to a record low of -45.7, while the propensity to buy edged down 0.8 points to -14.5, the lowest print since October 2008. "In addition to concerns about disrupted supply chains, the war in Ukraine and soaring energy and food prices, there are now worries about sufficient gas supplies for businesses and households next winter," GfK's consumer expert Rolf Buerkl said.
YESTERDAY ACTIVITY
For the day Germany's DAX closed at 13,166.38 with +0.53% percent or +69.45   point.the FTSE 100 closed at 7,348.23 up with +0.57% percent or +41.95  point. France's CAC 40 closed at 6,257.94 up with 0.75% percent or +46.49 point.
WORLD MARKETS
For the day the Dow is trading at 31,761.54 with a loss of –0.71% percent or -228.50  point. The S&P 500 is trading at 3,921.05 with a loss of –1.15% percent or -45.79  point. The Nasdaq Composite is trading at 11,562.57 with a loss of –1.87% percent or -220.09 point.
In other parts of world, Japan's Nikkei 225 is trading at 27,712.49  up with +0.21% percent or +0.21% point. Hong Kong's Hang Seng is trading at 20,590.46 with a loss of –1.51% percent or -315.42  point. China's Shanghai Composite is trading at 3,274.37 with a loss of –0.093% percent or 0.093% point. India's BSE Sensex is trading at 55,398.45 up with +0.24% percent or +129.96 point at 12:15 PM.