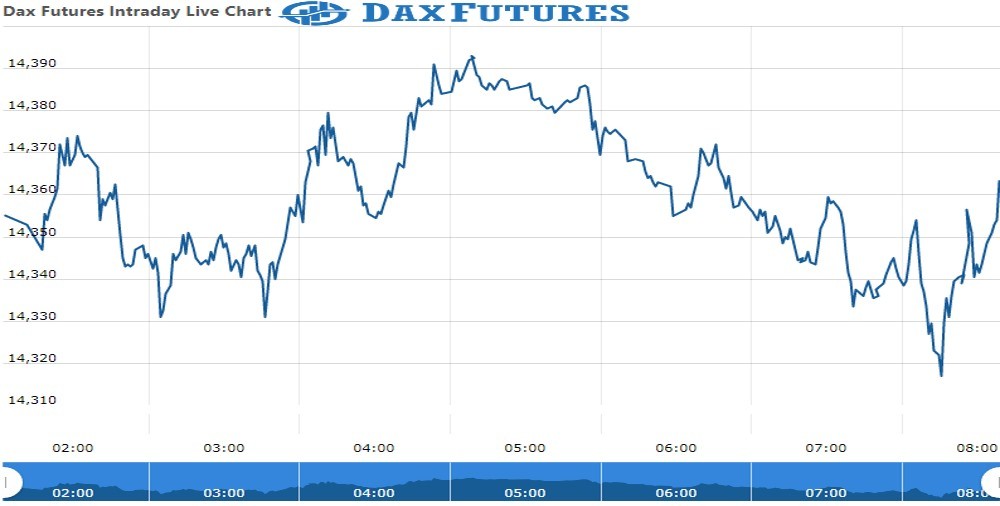 DAX Futures Update : 28 March. 2022
The DAX Futures is trading at 14,336.00 with a loss of -0.47% percent  -67.50 point.The FTSE 100 Futures is trading at 7,443.00 with a loss of -0.32% percent or -23.80 point. The CAC 40 Futures is trading at 6,561.00 with a loss of -0.47% percent or -30.80 point.  The EURO Stoxx 50 Futures trading at 3,788.00 with a loss of -0.58% percent or -22.00 point.
TODAY'S FACTORS AND EVENTS
The yield on the German 10-year Bund rose to 0.59% in the end of March, the highest since May of 2018, after hawkish remarks from major central banks brought investors to anticipate accelerated monetary tightening cycles. Fed policymakers expressed further support for a 50bps hike in the funds rate in the central bank's next meeting, instead of the previously expected 25bps. At the same time, all-time high inflation in the euro area extended the bond selloff that saw money markets price two quarter-point hikes in 2022, compared with previous expectations of one such increase
.
YESTERDAY ACTIVITY
For the day Germany's DAX closed at 14,305.76 up with +0.22% percent or +31.97   point.the FTSE 100 closed at 7,483.35 with a loss of –0.00% percent or 0.00  point. France's CAC 40 closed at 6,553.68 with a loss of –0.032% percent or –2.09 point.
WORLD MARKETS
For the day the Dow is trading at 34,861.24 up with +0.44% percent or +153.30 point. The S&P 500 is trading at 4,543.06 with 0.51% percent or +22.90 point. The Nasdaq Composite is trading at 14,169.30 with a loss of –0.16% percent or –22.54  point.
In other parts of world, Japan's Nikkei 225 is trading at 27,966.51 with a loss of –0.65% percent or ?183.33 point. Hong Kong's Hang Seng is trading at 21,569.05  up with +0.77% percent or +164.17 point. China's Shanghai Composite is trading at 3,203.34 with a loss of –0.28% percent or –8.90 point. India's BSE Sensex is trading at 56,914.98 with a loss of –0.78% percent or ?447.22  point at 12:15 PM.