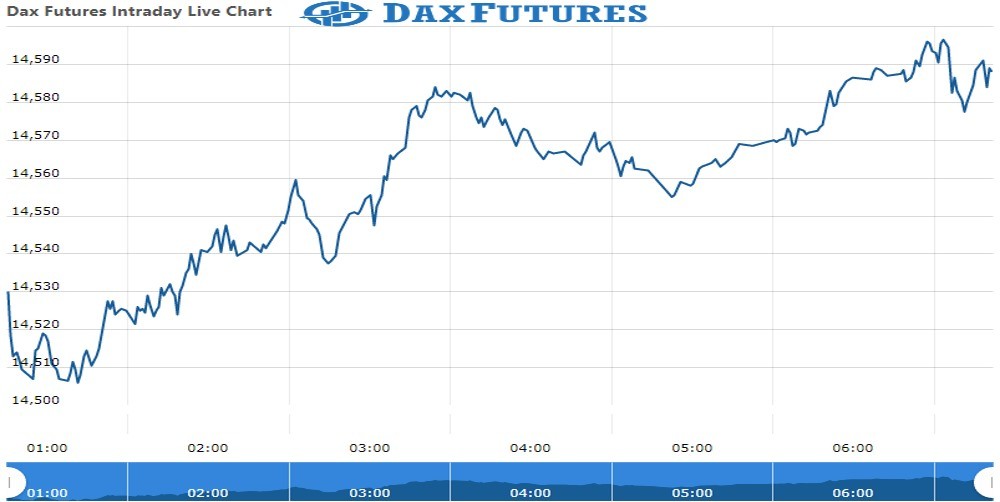 DAX Futures Update : 23 March. 2022
The DAX Futures is trading at 14,590.50 up with +0.49% percent  +71.00 point.The FTSE 100 Futures is trading at 7,455.20 with +0.62% percent or +46.20 point. The CAC 40 Futures is trading at 6,662.50 up with +1.39% percent or +91.50 point.The EURO Stoxx 50 Futures trading at 3,866.00 with +0.47% percent or +18.00 point.
TODAY'S FACTORS AND EVENTS
The yield on the German 10-year Bund topped 0.5% in late March, a level not seen since October of 2018, tracking a general bond sell-off, as investors weigh central banks' tightening cycles. Fed Chair Powell put a 50bps rate hike in the table for the next Fed meeting, few days after the US central bank raised the fed funds rate by 25 bps. Meanwhile, the odds are rising the European Central Bank will raise rates this year to fight inflationary pressures. Money markets are now pricing two quarter-point hikes in 2022, compared with smaller than one such increase at the start of the month, Bloomberg reported. Inflation in the Euro Area is already running at record highs and is now likely to be more persistent on the back of higher commodity prices and a tight labor market.
.
YESTERDAY ACTIVITY
For the day Germany's DAX closed at 14,473.20 up with +1.02% percent or +146.23   point.the FTSE 100 closed at 7,476.72 up with +0.46% percent or +34.33 point. France's CAC 40 closed at 6,659.41 up with +1.17% percent or +77.08 point.
WORLD MARKETS
For the day the Dow is trading at 34,807.46 up with +0.74% percent or +254.47 point. The S&P 500 is trading at 4,511.61 up with +1.13% percent or +50.43  point. The Nasdaq Composite is trading at 14,108.82 up with +1.95% percent or +270.36  point.
In other parts of world, Japan's Nikkei 225 is trading at 28,044.61 up with +3.01% percent or +820.50 point. Hong Kong's Hang Seng is trading at 22,220.09  with +1.51% percent or +330.81 point. China's Shanghai Composite is trading at 3,267.73 with 0.24% percent or +7.87 point. India's BSE Sensex is trading at 58,059.29 with 0.096% percent or +55.59  point at 12:15 PM.