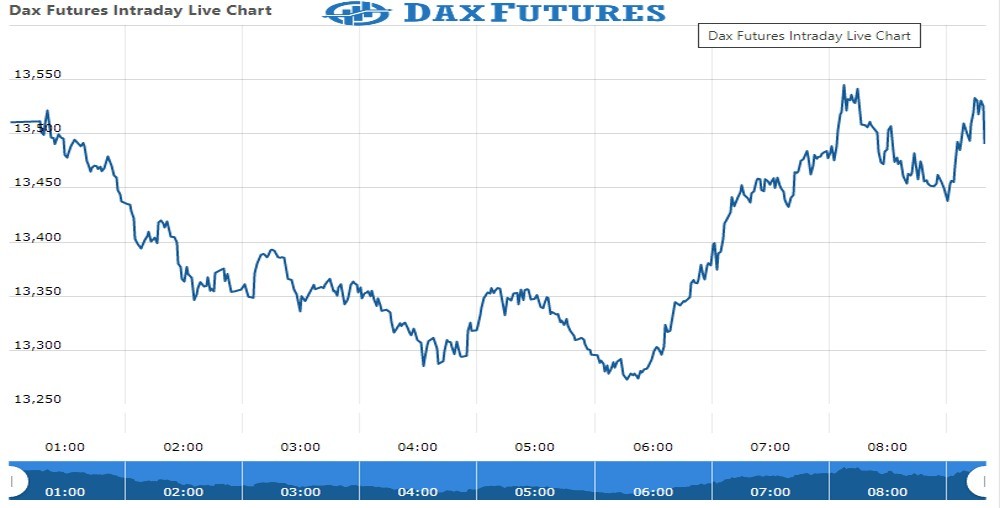 Dax Futures Update : 11 March. 2022
The DAX Futures is trading at 13,477.50 with a loss of -0.08% or -10.70 point.The FTSE 100 Futures is trading at 7,117.20 with +0.71% percent or +50.20 point. The CAC 40 Futures is trading at 6,229.80 with a loss of -2.43% percent or -155.20 point.  The EURO Stoxx 50 Futures trading at 3,670.00 up with +0.33% percent or +12.00 point.
TODAY'S FACTORS AND EVENTS
Annual inflation rate in Germany was confirmed at 5.1% in February of 2022, matching the preliminary estimate, and accelerating from 4.9% in the previous month, due to faster rises in prices of goods (7.9 percent vs 7.2 percent), mainly boosted by energy (22.5 percent vs 20.5 percent) and food (5.3 percent vs 5 percent). Price rises were recorded especially for heating oil (52.6%), natural gas (35.7%) and electricity (13.0%). Meanwhile, services inflation eased to 2.8 percent from 2.9 percent. On a monthly basis, consumer prices were up 0.9 percent, slowing from a 0.4 percent gain in January. The CPI, harmonized to compare with other European countries, was up 5.5 percent on the year and rose 0.9 percent month-on-month.
.
YESTERDAY ACTIVITY
For the day Germany's DAX closed at 13,442.10 with a loss of –2.93% percent or –405.83   point.the FTSE 100 closed at 7,099.09 with a loss of  –1.27% percent or –91.63 point. France's CAC 40 closed at 6,207.20  with a loss of –2.83% percent or ?180.63 point.
WORLD MARKETS
For the day the Dow is trading at 33,174.07 with a loss of –0.34% percent or –112.18 point. The S&P 500 is trading at 4,259.52 with a loss of –0.43% percent or –18.36 point. The Nasdaq Composite is trading at 13,129.96 with a loss of –0.95% percent or –125.58  point.
In other parts of world, Japan's Nikkei 225 is trading at 25,162.78 with a loss of –2.05% percent or ?527.62 point. Hong Kong's Hang Seng is trading at 20,588.69  with a loss of –1.44% percent or –301.57 point. China's Shanghai Composite is trading at 3,309.75 up with +0.41% percent or +13.65 point. India's BSE Sensex is trading at 55,419.16 with a loss of –0.082% percent or –45.23  point at 12:15 PM.