The DAX Futures is trading at 12,460.20  up with +0.30% or +37.20 point. The FTSE 100 Futures is trading at 6,251.50  with a loss of -0.58% percent or -36.50  point. The CAC 40 Futures is trading at 4,965.50  with a loss of -0.40% percent or -20.00 point. The EURO Stoxx 50 Futures trading at 3,264.00 with a loss of -0.55% percent or -18.00 point.
TODAY'S FACTORS AND EVENTS
the overnight bearish gap turned pretty quickly history as stocks climbed higher throughout both the Asian and European sessions. It's been only the entry to the U.S. regular trading that tried to reverse some of the preceding gains.
The bulls had their way though, and the closing bell came close to the intraday highs. So far so good for the bulls, but yesterday's volume hasn't been really convincing. While the price action was constructive, the daily indicators aren't clearly pointing either way in the short run.
YESTERDAY ACTIVITY
For the day Germany's DAX closed at 12,523.76 up with +2.13% percent or +260.79 point.the FTSE 100 closed at 6,320.12 up with +1.21% percent or +75.50   point. France's CAC  40 closed at 5,017.68 up with +1.39% percent or +68.98 point.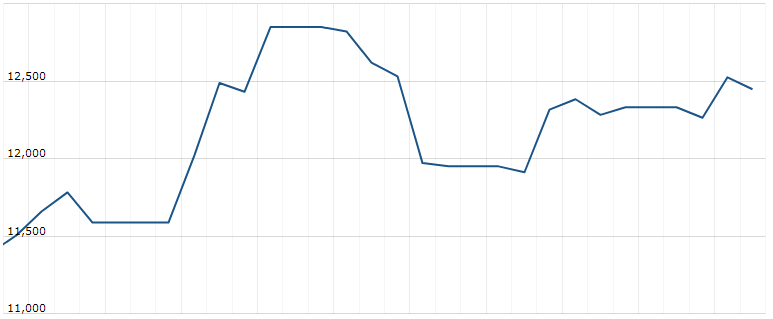 WORLD MARKETS
For the day the Dow is trading at 26,156.10 up with +0.50% percent or +131.14 point. The S&P 500 is trading at 3,131.29 up with +0.43% percent or +13.43 point. The Nasdaq Composite is trading at 10,131.37 up with +0.74% percent or +74.89  point.
In other parts of world, Japan's Nikkei 225 is trading at at 22,534.32  with a loss of –0.065% percent or ?14.73  point. Hong Kong's Hang Seng is trading at 24,852.63 with a loss of –0.22% percent or –54.71  point. China's Shanghai  Composite is trading at 2,979.55 up with +0.30% percent or +8.93  point. India's BSE Sensex is trading at 35,574.24 up with +0.41%  percent or +143.81  point at 12:15 PM.