The DAX Futures is trading at 12,324.00  up with +0.14% or +17.20 point. The FTSE 100 Futures is trading at 6,231.50 up with +0.44% percent or +27.50  point. The CAC 40 Futures is trading at 4,943.50 up with +0.66% percent or +32.50 point. The EURO Stoxx 50 Futures trading at 3,240.00 with +0.78%percent or +25.00 point.
TODAY'S FACTORS AND EVENTS
The DAX created a bearish gap in today's market open, which allowed the price to break the rectangle pattern. The first movement to close the gap, which has been anticipated by buyers, went as far as pulling the price much higher. The movement created a false bearish breakout, which is generally viewed as a sweet buying opportunity. Despite this turbulence, sentiment is once again positive.
YESTERDAY ACTIVITY
For the day Germany's DAX closed at 12,262.97 with a loss of  -0.55%percent or –67.79 point.the FTSE 100 closed at 6,244.62 with a loss of –0.76% percent or –47.98   point. France's CAC  40 closed at 4,948.70 with a loss of –0.62% percent or –30.74 point.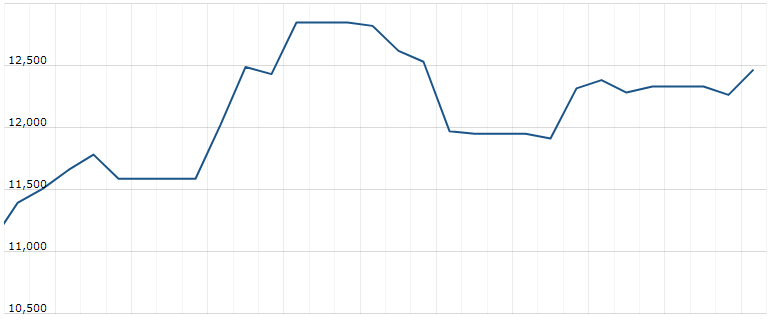 WORLD MARKETS
For the day the Dow is trading at 26,024.96 up with +0.59%percent or +153.50 point. The S&P 500 is trading at 3,117.86 up with +0.65% percent or +20.12 point. The Nasdaq Composite is trading at 10,056.48 up with +1.11% percent or +110.35  point.
In other parts of world, Japan's Nikkei 225 is trading at at 22,549.05 up with +0.50% percent or +111.78  point. Hong Kong's Hang Seng is trading at 24,762.71 up with +1.03% percent or +251.37  point. China's Shanghai  Composite is trading at 2,971.87 up with +0.22% percent or +6.60  point. India's BSE Sensex is trading at 35,141.81 up with +0.66%  percent or +230.49  point at 12:15 PM.