The DAX Futures is trading at 12,297.20  up with +0.37% or +45.70 point. The FTSE 100 Futures is trading at 6,193.00 with a loss of -0.40% percent or -25.00  point. The CAC 40 Futures is trading at 4,933.20 with a loss of -0.51% percent or -25.30 point.The EURO Stoxx 50 Futures trading at 3,232.00 with a loss of -0.46% percent or -15.00 point.
TODAY'S FACTORS AND EVENTS
Germany's producer prices decreased by 2.2 percent year-on-year in May 2020, following a 1.9 percent drop in the previous month and compared with market forecasts of a 2.1 percent fall. It was the fourth straight month of decline in producer prices and the steepest fall since May 2016. Energy and inntermediate prices decrease, while cost rose for durable, non-durable, and capital goods. Excluding energy, producer prices went down 0.3 percent year-on-year in May, after a 0.1 percent drop in April. On a monthly basis, producer prices fell 0.4 percent, compared with market consensus of a 0.3 percent decline
YESTERDAY ACTIVITY
For the day Germany's DAX closed at 12,281.53 with a loss of -0.81% percent or –100.61 point.the FTSE 100 closed at 6,224.07 with a loss of –0.47% percent or –29.18   point. France's CAC  40 closed at 4,958.75 with a loss of –0.75% percent or –37.22 point.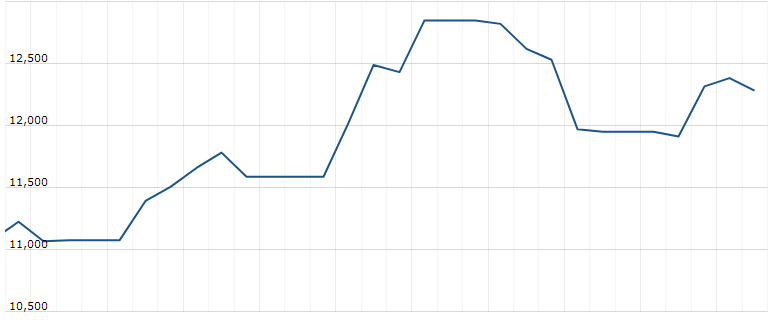 WORLD MARKETS
For the day the Dow is trading at 26,080.10 with a loss of -0.15% percent or -39.51 point. The S&P 500 is trading at 3,115.34 up with +0.059% percent or +1.85 point. The Nasdaq Composite is trading at 9,943.05 up with +0.33% percent or +32.52  point.
In other parts of world, Japan's Nikkei 225 is trading at at 22,478.79  up with +0.55% percent or +123.33  point. Hong Kong's Hang Seng is trading at 24,703.13 up  with +0.97% percent or +238.19  point. China's Shanghai  Composite is trading at 2,967.16  up with +0.95% percent or +27.85 point. India's BSE Sensex is trading at 34,534.84 up with +0.96%  percent or +326.79  point at 12:15 PM.