The DAX Futures is trading at 12,863.20  with a loss of -0.44% or -57.00 point.The FTSE 100 Futures is trading at 6,470.80 with a loss of -0.08% percent or -5.20  point. The CAC 40 Futures is trading at 5,175.52 with a loss of -0.43% percent or -22.27 point. The EURO Stoxx 50 Futures trading at 3,372.00 up with +0.18% percent or +6.00 point.
TODAY'S FACTORS AND EVENTS
the DAX 30, which enjoyed an incredibly bullish surge higher last week but still has to negotiate worrisome fundamentals. Add in the fresh risk of auto tariffs, and the fundamental outlook is far from encouraging. However, the Euro area's newfound unity and ECB's policy path have evoked a sense of stability and commitment that may provide a tailwind for the German equity index in the weeks to come
YESTERDAY ACTIVITY
For the day Germany's DAX closed at 12,819.59 with a loss of -0.22% percent or –28.09 point.the FTSE 100 closed at 6,472.59  with a loss of –0.18% percent or –11.71 point. France's CAC  40 closed at 5,175.52  with a loss of –0.43% percent or –22.27  point.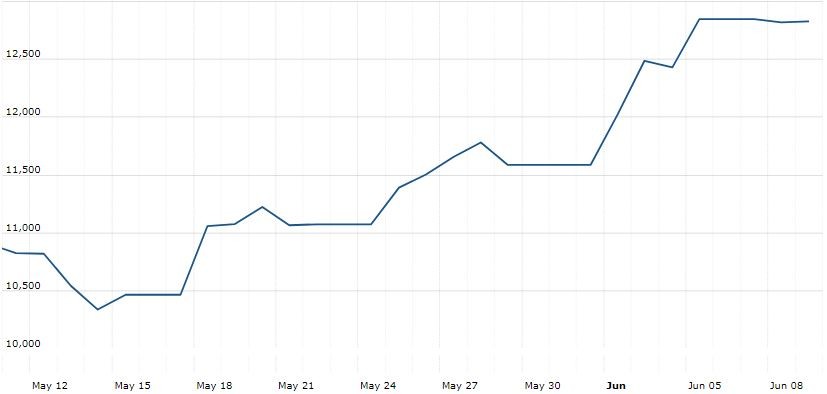 WORLD MARKETS
For the day the Dow is trading at 27,572.44 up with +1.70% percent or +461.46 point. The S&P 500 is trading at 3,232.39 with +1.20%percent or +38.46 point. The Nasdaq Composite is trading at 9,924.74 up with +1.13% percent or +110.66  point.
In other parts of world, Japan's Nikkei 225 is trading at at 23,091.03  with a loss of –0.38% percent or –87.07 point. Hong Kong's Hang Seng is trading at 25,201.19  up with +1.71% percent or +424.42 point. China's Shanghai  Composite is trading at 2,953.20  up with +0.53% percent or +15.43 point. India's BSE Sensex is trading at 34,697.07 up with +0.95% percent or +326.49  point at 12:15 PM.