The DAX Futures is trading at 11,470.30 up with +0.67% or +76.80 point.The FTSE 100 Futures is trading at 6,102.50 up with +0.29% percent or +17.60  point. The CAC 40 Futures is trading at 4,582.00 up with +1.11% percent or +50.50 point.  The EURO Stoxx 50 Futures trading at 2,988.00 up with +1.05% percent or +31.00 point.
TODAY'S FACTORS AND EVENTS
CMC Markets analyst Michael Hewson said: "With UK and US markets off yesterday, markets in Europe picked up from their strong gains of last week by getting the week off to another good start with the German DAX breaking higher and hitting its highest levels since the Friday 6th March, as it starts to fill the price gap between the Friday close at 11,541 and the opening price of the Monday of the following week.
YESTERDAY ACTIVITY
For the day Germany's DAX closed at 11,479.09 up with +0.77% percent or +87.81  point.the FTSE 100 closed at 6,102.38 up with +1.82% percent or +109.10 point. France's CAC  40 closed at 4,606.21 with +1.46% percent or +66.30 point.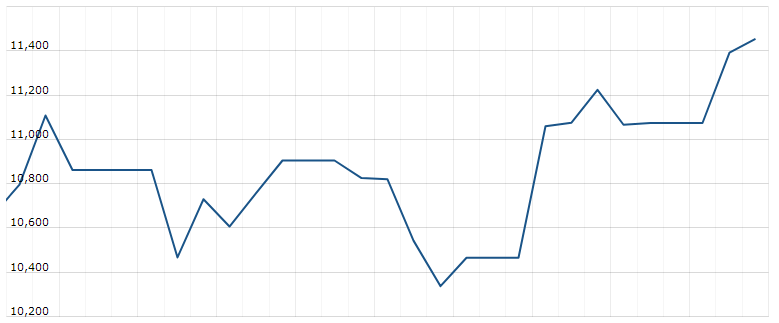 WORLD MARKETS
For the day the Dow is trading at 24,465.16 with a loss of -0.037% percent or ?8.96 point. The S&P 500 is trading at 2,955.45 up with +0.24% percent or +6.94 point. The Nasdaq Composite is trading at 9,324.59 up with +0.43% percent or +39.71 point.
In other parts of world, Japan's Nikkei 225 is trading at up 21,271.17 up with +2.55% percent or +529.52 point. Hong Kong's Hang Seng is trading at 23,399.40  with +1.95% percent or +447.16 point. China's Shanghai  Composite is trading at 2,846.55 up with +1.01% percent or +28.58 point. India's BSE Sensex is trading at 30,689.65 with 0.056% percent or +17.06  point at 12:15 PM.