The DAX Futures is trading at 10,548.20 up with +0.76% or +79.70 point.The FTSE 100 Futures is trading at 5,815.80 up with +0.44% percent or +25.20 point. The CAC 40 Futures is trading at 4,454.20 up with +2.04% percent or +89.20 point.  The EURO Stoxx 50 Futures trading at 2,832.00 up  with +0.85% percent or +24.00 point.
TODAY'S FACTORS AND EVENTS
Last week the DAX broke a corrective wedge off the March low, a pattern that was thought to lead to a breakdown in prices if the support around the 10200 level could also break. Indeed, though, this was not the case, and the level held after a couple of attempts at breaking.
The lift from this important support area has seriously dented the bearish wedge-break in favor of seeing the DAX maintain current levels and try and rally to a new set of highs post-March low. A breakout above 10820 will have the gap from March 6/9 in play from 11032 up to the fill at 10542.
YESTERDAY ACTIVITY
For the day Germany's DAX closed at 10,336.09 with a loss of -1.69% percent or –177.70  point.the FTSE 100 closed at 5,752.23 with a loss of –1.28% percent or –74.38 point. France's CAC  40 closed at 4,393.32  with a loss of –1.30% percent or –57.68 point.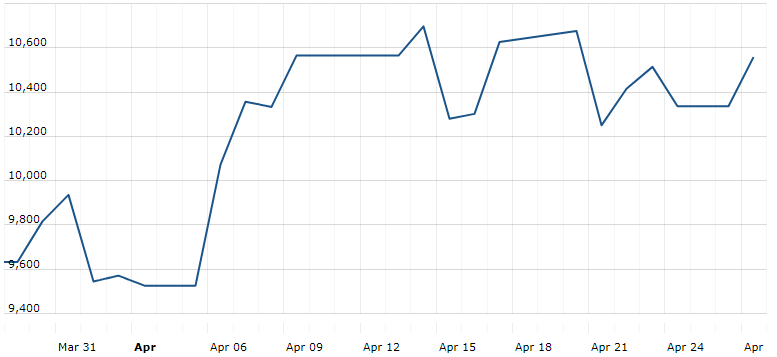 WORLD MARKETS
For the day the Dow is trading at 23,775.27 with +1.11% percent or +260.01  point. The S&P 500 is trading at 2,836.74  with 1.39% percent or +38.94 point. The Nasdaq Composite is trading at 8,634.52  with 1.65% percent or +139.77 point.
In other parts of world, Japan's Nikkei 225 is trading at 19,783.22 up with +2.71% percent or +521.22  point. Hong Kong's Hang Seng is trading at 24,271.41 up with +1.85% percent or +440.08   point. China's Shanghai  Composite is trading at 2,815.44 up with +0.25% percent or +6.91 point. India's BSE Sensex is trading at 32,015.78  with 2.20% percent or +688.56 point at 12:15 PM.