The DAX Futures is trading at 9,529.00  with a loss of -2.30% percent or -224.70 point. The FTSE 100 Futures is trading at 5,428.80 with a loss of -3.67% percent or -206.70 point. The CAC 40 Futures is trading at 4,238.00 with a loss of -3.57% percent or -157.00 point. The EURO Stoxx 50 Futures trading at 2,642.00 with  a loss of -3.82% percent or -105.00 point.
TODAY'S FACTORS AND EVENTS
Readings from IGCS at the time of publishing show that 39.65% of DAX 30 traders are net long. Those biased to the downside have decreased by 3.60% and 12.53% over a daily and weekly period respectively. Recent changes in sentiment warn that the current price trend may soon reverse lower despite the fact traders remain netshort.
YESTERDAY ACTIVITY
For the day Germany's DAX closed at 9,935.84 up with +1.22% percent or +119.87  point. the FTSE 100 closed at 5,513.32 with  a loss of –2.80% percent or –160.74 point. France's CAC  40 closed at 4,396.12 up with +0.40% percent or +17.62 point.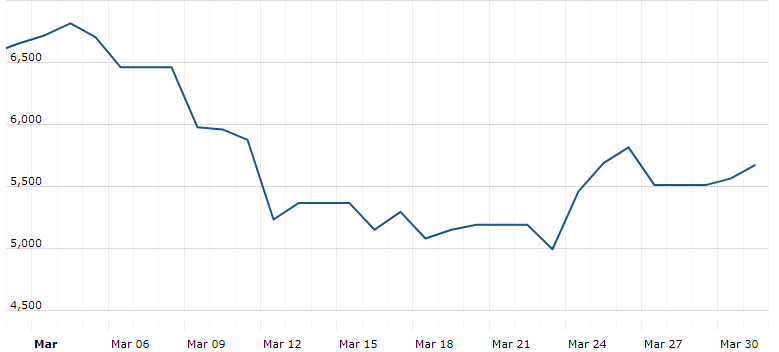 WORLD MARKETS
For the day the Dow is trading at 21,917.16 with a loss of –1.84%percent or –410.32 point. The S&P 500 is trading at 2,584.59 with a loss of –1.60% percent or –42.06 point. The Nasdaq Composite is trading at 7,700.10 with a loss of –0.95% percent or –74.05 point.
In other parts of world, Japan's Nikkei 225 is trading at 18,065.41 with a loss of –4.50% percent or –851.60 point. Hong Kong's Hang Seng is trading at 23,050.25  with a loss of  –2.34%% percent or –553.23 point. China's Shanghai  Composite is trading at 2,734.52 with a loss of –0.57% percent or –15.77 point. India's BSE Sensex is trading at 28,495.28  with a loss of  –3.30% percent or –975.68 point at 12:15 PM.