The DAX Futures is trading at 10,011.80  up with +1.68% percent or +165.00 point.The FTSE 100 Futures is trading at 5,657.20 up with +1.85% percent or +102.70 point. The CAC 40 Futures is trading at 4,457.00 up with +1.79% percent or +78.50 point.  The EURO Stoxx 50 Futures trading at 2,784.00 with +2.58% percent or +70.00 point.
TODAY'S FACTORS AND EVENTS
European stock markets are set to edge higher Tuesday, lifted by signs of an economic stabilization in Asia.
C/hina's official Purchasing Managers' Index rose to 52 in March from a plunge to a record low of 35.7 in February, above the 50-point mark that separates monthly growth from contraction.
YESTERDAY ACTIVITY
For the day Germany's DAX closed at 10,017.86 up with +2.06% percent or +201.89  point.the FTSE 100 closed at 5,681.96 up with +2.12% percent or +118.22 point. France's CAC  40 closed at 4,458.26 up with 1.82% percent or +79.76 point.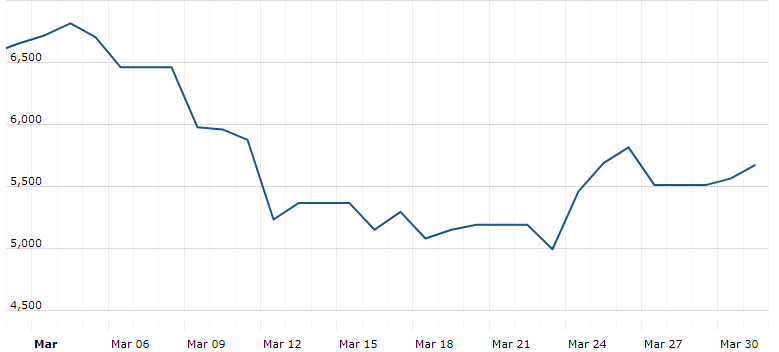 WORLD MARKETS
For the day the Dow is trading at 22,327.48 up with +3.19% percent or +690.70 point. The S&P 500 is trading at 2,626.65 with +3.35% percent or +85.18 point. The Nasdaq Composite is trading at 7,774.15 with +3.62% percent or +271.77 point.
In other parts of world, Japan's Nikkei 225 is trading at 18,917.01 with a loss of –0.88% percent or –167.96 point. Hong Kong's Hang Seng is trading at 23,462.53 up with +1.24% percent or +287.42 point. China's Shanghai  Composite is trading at 2,750.30 up with +0.11% percent or +3.08 point. India's BSE Sensex is trading at 29,372.14  with  +3.28% percent or +931.82 point at 12:15 PM.