The DAX Futures is trading at 9,917.30  with a loss of -1.33% percent or -134.00 point. The FTSE 100 Futures is trading at 5,680.00  with a loss of -1.11% percent or -63.50 point. The CAC 40 Futures is trading at 4,543.58 up with +2.51% percent or +111.29 point. The EURO Stoxx 50 Futures trading at 2,760.00 with a loss of -0.43% percent or -12.00 point.
TODAY'S FACTORS AND EVENTS
The DAX sell-off may have been put to an end for a while, with major stimulus from CBs and governments in place, along with major long-term support having been met and confirmed thus far. Looking at the monthly chart (log scale), the DAX has a trend-line rising up from 1982 under the 2003 and 2009 lows. The trend-line is also in confluence with the peaks (2000 & 2007) that proceeded the latter two bear market lows that make up part of the 1982-current trend-line.
YESTERDAY ACTIVITY
For the day Germany's DAX closed at 10,000.96 up with +1.28% percent or +126.70  point. the FTSE 100 closed at 5,815.73 with +2.24% percent or +127.53 point. France's CAC  40 closed at 4,543.58 up with +2.51%% percent or +111.29 point.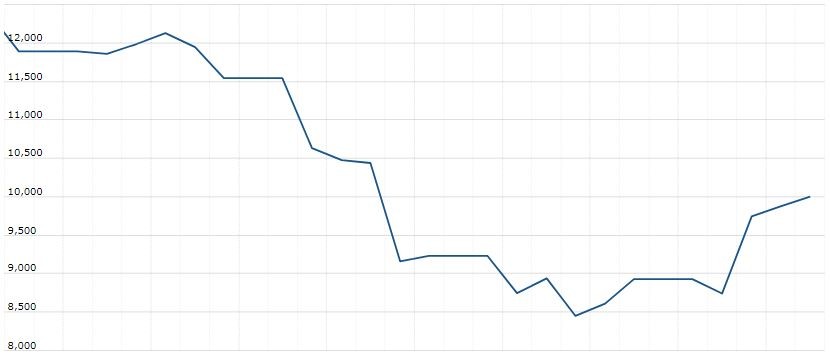 WORLD MARKETS
For the day the Dow is trading at 22,552.17 up with +6.38% percent or +1,351.62 point. The S&P 500 is trading at 2,630.07 up with +6.24% percent or +154.51 point. The Nasdaq Composite is trading at 7,797.54 up  with +5.60% percent or  +413.24 point.
In other parts of world, Japan's Nikkei 225 is trading at 19,389.43 up with +3.88% percent or +724.83 point. Hong Kong's Hang Seng is trading at 23,478.93 up with +0.54%percent or +126.59 point. China's Shanghai  Composite is trading at 2,772.20 up with +0.26% percent or +7.29 point. India's BSE Sensex is trading at 29,696.39  with  a loss of –0.84% percent or –250.38 point at 12:15 PM.