The DAX Futures is trading at 9,607.20  with a loss of -1.74% percent or -170.30 point.The FTSE 100 Futures is trading at 5,435.60  with a loss of -2.84% percent or -158.90 point. The CAC 40 Futures is trading at 4,320.50 with a loss of -2.33% percent or -103.00 point.  The EURO Stoxx 50 Futures trading at 2,684.00  with a loss of -1.21% percent or -33.00 point.
TODAY'S FACTORS AND EVENTS
European stock markets are set to weaken Thursday, amid concerns about the impact on unemployment from the coronavirus pandemic as investors still wait for a massive rescue package to pass through the U.S. political process.
At 3:15 ET (0715 GMT), the DAX futures contract in Germany traded 2.2% lower. France's CAC 40 futures were down 2.7%, while the FTSE 100 futures contract in the U.K. fell 2.5%.
YESTERDAY ACTIVITY
For the day Germany's DAX closed at 9,874.26 up with +1.79% percent or +173.69  point. the FTSE 100 closed at 5,542.36 with a loss of  –2.58% percent or –146.66 point. France's CAC  40 closed at 4,432.30 up with 4.47% percent or +189.60 point.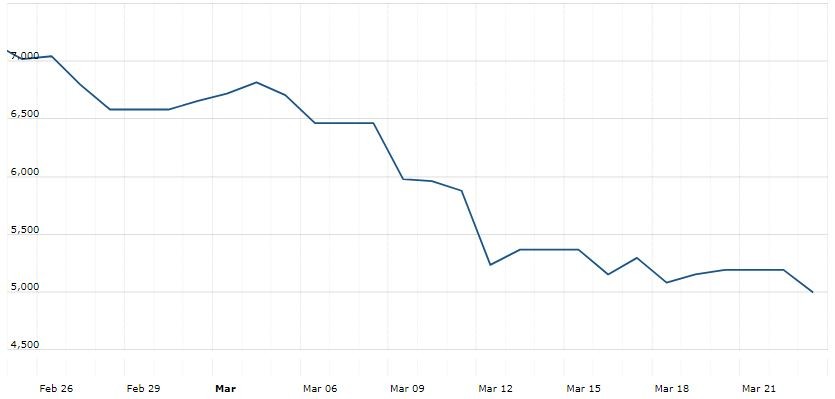 WORLD MARKETS
For the day the Dow is trading at 21,200.55 up with +2.39% percent or +495.64 point. The S&P 500 is trading at2,475.56 up with 1.15% percent or +28.23 point. The Nasdaq Composite is trading at 7,384.30 with a loss of –0.45% percent or –33.56 point.
In other parts of world, Japan's Nikkei 225 is trading at 18,664.60 with a loss of –4.51% percent or –882.03 point. Hong Kong's Hang Seng is trading at 23,352.34  with a loss of –0.74%percent or –174.85 point. China's Shanghai  Composite is trading at 2,764.91 with a loss of –0.60% percent or –16.68 point. India's BSE Sensex is trading at 29,366.12 up with +2.91% percent or +830.34 point at 12:15 PM.