The DAX Futures is trading at 9,094.20  up with +3.63% percent or +318.20 point.The FTSE 100 Futures is trading at 5,121.00 up with +4.36% percent or +214.00 point. The CAC 40 Futures is trading at 3,914.31 with a loss of –3.32 percent or –134.48 point.  The EURO Stoxx 50 Futures trading at 2,508.00 up with +4.41% percent or +106.00 point.
TODAY'S FACTORS AND EVENTS
Germany's producer prices inched lower by 0.1 percent year-on-year in March 2020, following a 0.2 percent rise in the previous month and defying market forecasts of a 0.2 percent gain. Cost declined for both intermediate goods and energy, mainly due to natural gas; while cost rose for durable, non-durable and capital goods. Excluding energy, producer inflation declined to 0.6 percent in February from 0.7 percent in January. On a monthly basis, producer prices went down 0.4 percent, worse than market consensus of a 0.1 percent fall.
YESTERDAY ACTIVITY
For the day Germany's DAX closed at 8,741.15 with a loss of -2.10% percent or –187.80  point.the FTSE 100 closed at 4,993.89 with a loss of  –3.79% percent or –196.89 point. France's CAC  40 closed at 3,914.31 with a loss of –3.32% percent or –134.48 point.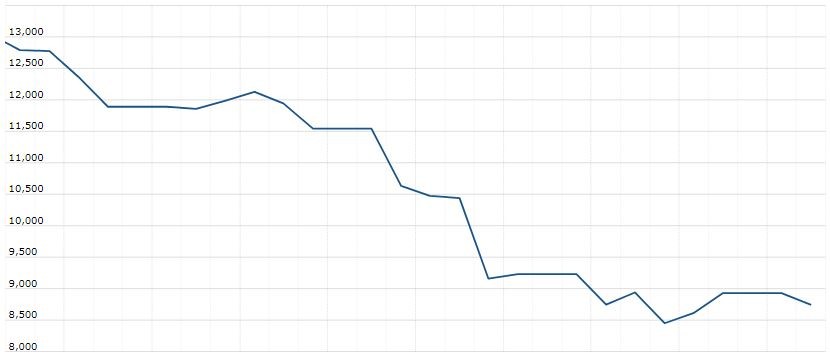 WORLD MARKETS
For the day the Dow is trading at 18,591.93 with a loss of –3.04% percent or –582.05 point. The S&P 500 is trading at 2,237.40  with a loss of –2.93% percent or –67.52 point. The Nasdaq Composite is trading at 6,860.67 with a loss of –0.27% percent or –18.84 point.
In other parts of world, Japan's Nikkei 225 is trading at 18,092.35 up with +7.13% percent or +1,204.57 point. Hong Kong's Hang Seng is trading at 22,639.55 up with +4.35% percent or +943.42  point. China's Shanghai  Composite is trading at 2,722.44 up with +2.34% percent or +62.27 point. India's BSE Sensex is trading at 26,746.26 up with +2.94% percent or +765.02 point at 12:15 PM.