The DAX Futures is trading at 11,839.00 with a loss of -1.75% percent or –211.30 point.The FTSE 100 Futures is trading at 6,525.00 with a loss of -2.07% percent or -138.20 point. The CAC 40 Futures is trading at 5,264.00 with a loss of -2.44% percent or -131.50 point.  The EURO Stoxx 50 Futures trading at 3,322.00 with a loss of –2.06% percent or –70.00 point.
TODAY'S FACTORS AND EVENTS
autos were back into the red on Today. BMW and Volkswagen led the down, with the pair sliding by 3.80% and by 4.79% respectively. Continental and Daimler saw more modest losses of 2.48% and 2.69% respectively.
Things were no better for the banks, which saw heavier losses on the day. Commerzbank slid by 5.25%, with Deutsche Bank down by 5.55%.
Deutsche Lufthansa was the worst performer on the DAX for a 2nd consecutive day, sliding by 6.48%.
YESTERDAY ACTIVITY
For the day Germany's DAX closed at 12,367.46 with a loss of –3.19% percent or –407.42  point.the FTSE 100 closed at 6,796.40 with a loss of –3.49% percent or –246.07 point. France's CAC  40 closed at 5,495.60 with a loss of –3.32% percent or –188.94   point.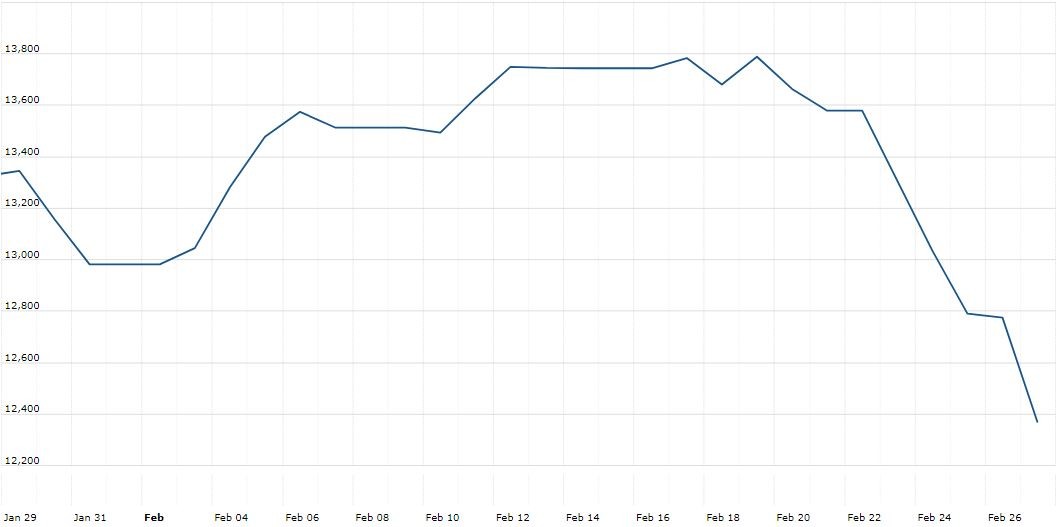 WORLD MARKETS
For the day the Dow is trading at 25,766.64 with a loss of –4.42% percent or –1,190.95  point. The S&P 500 is trading at 2,978.76 with a loss of –4.42% 8percent or –137.63 point. The Nasdaq Composite is trading at 8,566.48 with a loss of –4.61% percent or –414.29 point.
In other parts of world, Japan's Nikkei 225 is trading at 21,142.96 with a loss of –3.67% percent or –805.27  point. Hong Kong's Hang Seng is trading at 26,140.70 with a loss of –2.38% percent or –637.92   point. China's Shanghai  Composite is trading at 2,880.30 with a loss of –3.71%percent or –111.03  point. India's BSE Sensex is trading at 38,601.22 with a loss of –2.88% percent or –1,144.44  point at 12:15 PM.