The DAX Futures is trading at 12,453.50  with a loss of -0.63% percent or -79.10 point.The FTSE 100 Futures is trading at 6,873.50 with a loss of -0.59% percent or -40.70 point. The CAC 40 Futures is trading at 5,552.50 with a loss of -0.85% percent or -47.50 point.  The EURO Stoxx 50 Futures trading at 3,494.00 with a loss of -0.80% percent or -28.00 point.
TODAY'S FACTORS AND EVENTS
DAX longs at key Fibonacci support at 12990/970 were offered up to almost 200 ticks tick profit as we topped 2 ticks from first resistance at 13160/170. If you managed to short we collapsed again to 12990/970 but this time longs were stopped. However, we got a chance to sell the bounce to 12970/990. We topped almost exactly here before hitting all downside targets with a 400 tick crash.
YESTERDAY ACTIVITY
For the day Germany's DAX closed at 12,774.88 with a loss of –0.12% percent or –15.61  point.the FTSE 100 closed at 7,042.47 up with +0.35% percent or +24.59 point. France's CAC  40 closed at 5,684.55 up with +0.086% percent or +4.87  point.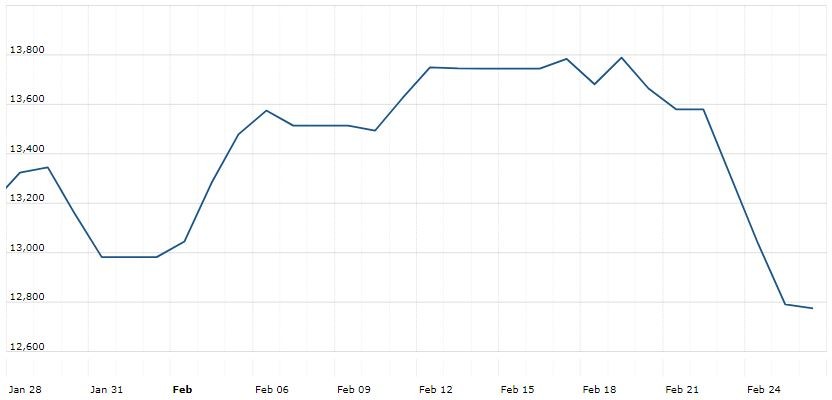 WORLD MARKETS
For the day the Dow is trading at 26,957.59 with a loss of –0.46% percent or –123.77  point. The S&P 500 is trading at 3,116.39 with a loss of –0.38% percent or –11.82 point. The Nasdaq Composite is trading at 8,980.77 up with +0.17% percent or +15.16 point.
In other parts of world, Japan's Nikkei 225 is trading at 21,948.23 with a loss of –2.13% percent or –477.96  point. Hong Kong's Hang Seng is trading at 26,734.81 up with +0.14% percent or +38.32   point. China's Shanghai Composite is trading at 2,991.33 up with 0.11% percent or +3.40  point. India's BSE Sensex is trading at 39,612.07 with a loss of –0.64% percent or –256.52 point at 12:15 PM.