The DAX Futures is trading at 13,606.50 up with +0.63% percent or +84.60 point.The FTSE 100 Futures is trading at 7,568.20 up with +0.49% percent or +36.70 point. The CAC 40 Futures is trading at 6,064.00 up with +0.65% percent or +39.00 point.  The EURO Stoxx 50 Futures trading at 3,790.00 up with +0.53% percent or +20.00 point.
TODAY'S FACTORS AND EVENTS
It was a bearish day for the auto sector. Continental tumbled by 2.65%, with Daimler and Volkswagen falling by 1.39% and by 1.14% respectively.
It was a mixed day for the banks, however, with Commerzbank falling by 0.54%, while Deutsche Bank gained 0.30% on the day.
Lufthansa was the worse performer on the day, sliding by 4.25%.
From the CAC, it was also a bearish day for the banks. BNP Paribas fell by 0.55%, with Credit Agricole and Soc Gen down by 0.35% and by 0.52% respectively.
YESTERDAY ACTIVITY
For the day Germany's DAX closed at 13,555.87 up with +0.05% percent or +6.93  point.the FTSE 100 closed at 7,610.70 with a loss of –0.53% percent or –40.74  point. France's CAC  40 closed at 6,045.99 with a loss of –0.54% percent or –32.54 point.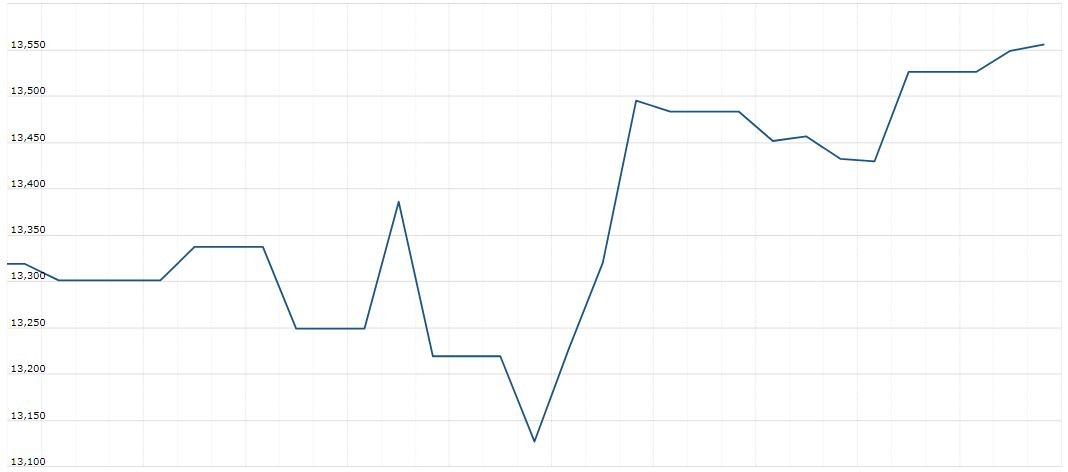 WORLD MARKETS
For the day the Dow is trading at 29,196.04 with a loss of –0.52% percent or –152.06  point. The S&P 500 is trading at 3,320.79  with a loss of –0.27% percent or -8.83 point. The Nasdaq Composite is trading at 9,370.81 with a loss of –0.19% percent or –18.14 point.
In other parts of world, Japan's Nikkei 225 is trading at 24,031.35 up with +0.70% percent or +166.79   point. Hong Kong's Hang Seng is trading at 28,362.09 up with +1.35% percent or +376.76  point. China's Shanghai Composite is trading at 3,060.75 up with +0.28% percent or +8.61 point. India's BSE Sensex is trading at 41,234.12 with a loss of –0.22% percent or –89.69 point at 12:15 PM.