The DAX Futures is trading at 13,198.80 with a loss of -0.30% percent or -40.30 point. The FTSE 100 Futures is trading at 7,512.00 with a loss  -0.84% percent or -63.50 point. The CAC 40 Futures is trading at 5,959.00  with a loss of -0.23% percent or -13.50 point. The EURO Stoxx 50 Futures trading at 3,728.00 with a loss of -0.11% percent or -4.00 point.
TODAY'S FACTORS AND EVENTS
It was a bearish day for the auto sector. Continental and Volkswagen led the way down, with losses of 1.90% and 1.48%. BMW and Daimler saw more modest losses of 1.39% and by 0.97% respectively.
The sector was under pressure following news of BMW and Daimler announcing plans to pull out of the North America market.
It was a bullish day for the banks, however. Commerzbank rose by 0.25%, with Deutsche Bank rallying by 1.49%.
YESTERDAY ACTIVITY
For the day Germany's DAX closed at 13,211.96  with a loss of -0.077% percent or –10.20  point.the FTSE 100 closed at 7,573.82  up with +0.44% percent or +33.07 point. France's CAC  40 closed at 5,972.28 up with +0.21% percent or +12.68 point.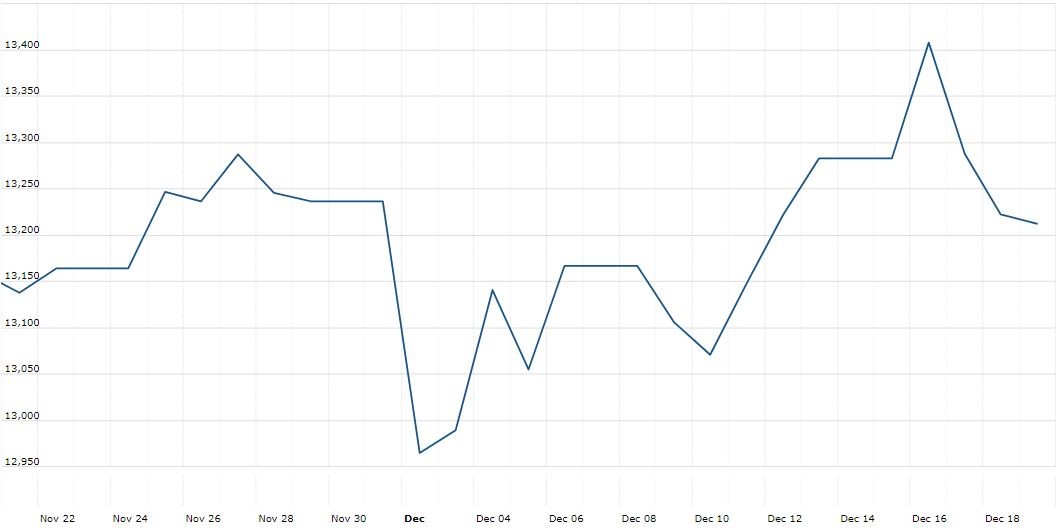 WORLD MARKETS
For the day the Dow is trading at 28,376.96  up with +0.49% percent or  +137.68 point. The S&P 500 is trading at 3,205.37 up with 0.45% percent or +14.23 point. The Nasdaq Composite is trading at 8,887.22 up with +0.67% percent or +59.48  point.
In other parts of world, Japan's Nikkei 225 is trading at 23,816.63 with a loss of –0.20% percent or -48.22 point. Hong Kong's Hang Seng is trading at 27,817.98  up with +0.063% percent or +17.49 point. China's Shanghai Composite is trading at 3,004.94  with a loss of –0.40% percent or –12.13  point. India's BSE Sensex is trading at 41,700.62 up with +0.064% percent or +26.70 point at 12:15 PM.