The DAX Futures is trading at 13,251.80  with a loss of -0.04% percent or –5.70 point.The FTSE 100 Futures is trading at 7,409.00 up with +0.22% percent or +16.20 point. The CAC 40 Futures is trading at 5,925.50 up with +0.69% percent or +40.50 point.  The EURO Stoxx 50 Futures trading at 3,704.00  with a loss of -0.05% percent or -2.00  point.
TODAY'S FACTORS AND EVENTS
Positive contributions to the GDP growth came from foreign trade (0.5 percentage points) and consumption expenditure (0.4 percentage points). Meanwhile, gross capital formation subtracted 0.8 percentage points to the GDP, led by a negative contribution of 0.7 percentage points from inventory changes, while gross fixed capital formation was neutral.
Exports of goods and services jumped 1.0 percent in the third quarter (vs -1.3 percent in Q2), while imports edged up 0.1 percent (vs -0.1 percent in Q2).
YESTERDAY ACTIVITY
For the day Germany's DAX closed at 13,246.45 up with +0.63% percent or +82.57    point.the FTSE 100 closed at 7,396.29 up with +0.95% percent or +69.48 point. France's CAC  40 closed at 5,924.86 up with +0.54% percent or +31.74 point.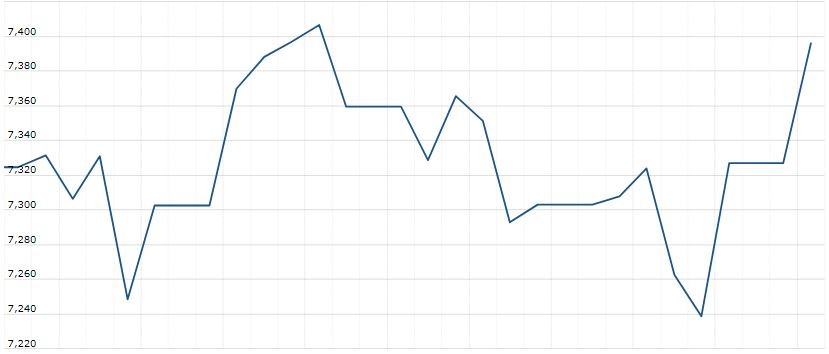 WORLD MARKETS
For the day the Dow is trading at 28,066.47 up with +0.68% percent or +190.85 point. The S&P 500 is trading at 3,133.64 up with +0.75% percent or +23.35 point. The Nasdaq Composite is trading at 8,632.49 up with +1.32% percent or +112.60 point.
In other parts of world, Japan's Nikkei 225 is trading at 23,373.32 up with +0.35% percent or +80.51 point. Hong Kong's Hang Seng is trading at 26,929.19 with a loss of –0.24% percent or –63.85 point. China's Shanghai Composite is trading at 2,909.91 up with +0.13% percent or +3.75   point. India's BSE Sensex is trading at 40,926.93 up with +0.092% percent or  +37.70 point at 12:15 PM.