The DAX Futures is trading at 13,164.00 with a loss of -0.27% percent or -35.00 point.The FTSE 100 Futures is trading at 7,296.20  with a loss of -0.18% percent or -13.30 point. The CAC 40 Futures is trading at 5,909.05 with a loss of -0.35% percent or –20.73 point.  The EURO Stoxx 50 Futures trading at 3,680.00 with a loss of -0.27% percent or -10.00  point.
TODAY'S FACTORS AND EVENTS
It was a mixed day for the European majors on Today. While the CAC40 and EuroStoxx600 fell by 0.35% and 0.12% respectively, the DAX30 bucked the trend with a 0.11% gain.
A lack of progress towards a U.S – China phase 1 trade agreement weighed on the majors late in the day.
On Tuesday, the majors slid back from early highs. The pullback came in response to Trump stating that he would raise tariffs should a trade deal not materialize.
It wasn't a new threat, however, with similar comments having been made in recent weeks. Trump is all too aware of China wanting to delay a deal in hopes of a Democratic victory in next year's presidential election
YESTERDAY ACTIVITY
For the day Germany's DAX closed at 13,221.12 up with +0.11% percent or +14.11  point.the FTSE 100 closed at 7,323.80 up with +0.22% percent or +16.10 point. France's CAC  40 closed at 5,909.05 with a loss of –0.35%  percent or –20.73 point.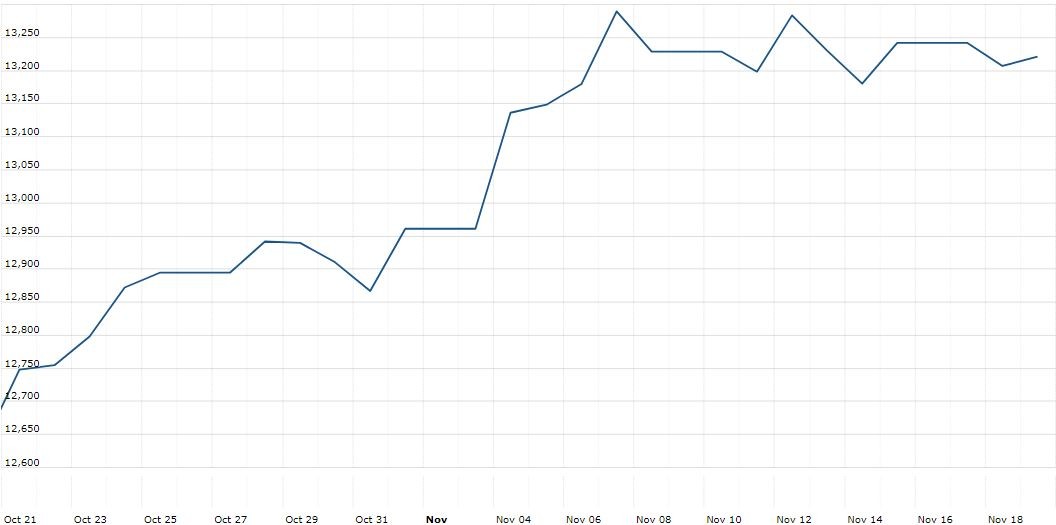 WORLD MARKETS
For the day the Dow is trading at 27,934.02 with a loss of –0.36% percent or –102.20 point. The S&P 500 is trading at 3,120.18  with a loss of –0.059% percent or –1.85 point. The Nasdaq Composite is trading at 8,570.66 up with +0.24% percent or +20.72 point.
In other parts of world, Japan's Nikkei 225 is trading at 23,148.57 with a loss of –0.62% percent or –144.08 point. Hong Kong's Hang Seng is trading at 26,903.11 with a loss of –0.70% percent or –190.69 point. China's Shanghai Composite is trading at 2,911.05 with a loss of –0.78% percent or –22.94   point. India's BSE Sensex is trading at 40,696.49 up with +0.56% percent or +226.79 point at 12:15 PM.