The DAX Futures is trading at 13,230.30  up with +0.19% percent or +25.60 point.The FTSE 100 Futures is trading at 7,315.00 up with +0.14% percent or +10.40 point. The CAC 40 Futures is trading at 5,929.79 with a loss of -0.16% percent or –9.48 point.  The EURO Stoxx 50 Futures trading at 3,706.00  up with +0.16% percent or +6.00  point.
TODAY'S FACTORS AND EVENTS
It was back in the red for the European majors at the start of the week, with the DAX falling by 0.26% to lead the way. The CAC40 and EuroStoxx600 saw more modest losses of 0.16% and 0.01% respectively.
With the economic calendar on the quieter side throughout the day, geopolitics provide direction on Monday.
While the Tories saw their lead widen according to the opinion polls and Brexit uncertainty diminish, it was trade chatter that weighed.
News of China having issues with Trump's unwillingness to roll back tariffs has led to question marks over Beijing signing an agreement.
There's the ongoing impeachment and the 2020 presidential election to consider. China may ultimately prefer to sit it out and see the outcome of both before signing a phase 1 agreement that retains tariffs
YESTERDAY ACTIVITY
For the day Germany's DAX closed at 13,207.01 with a loss of -0.26% percent or -34.74  point.the FTSE 100 closed at 7,307.70 up with +0.065% percent or +4.76 point. France's CAC  40 closed at 5,929.79 with a loss of –0.16%  percent or –9.48 point.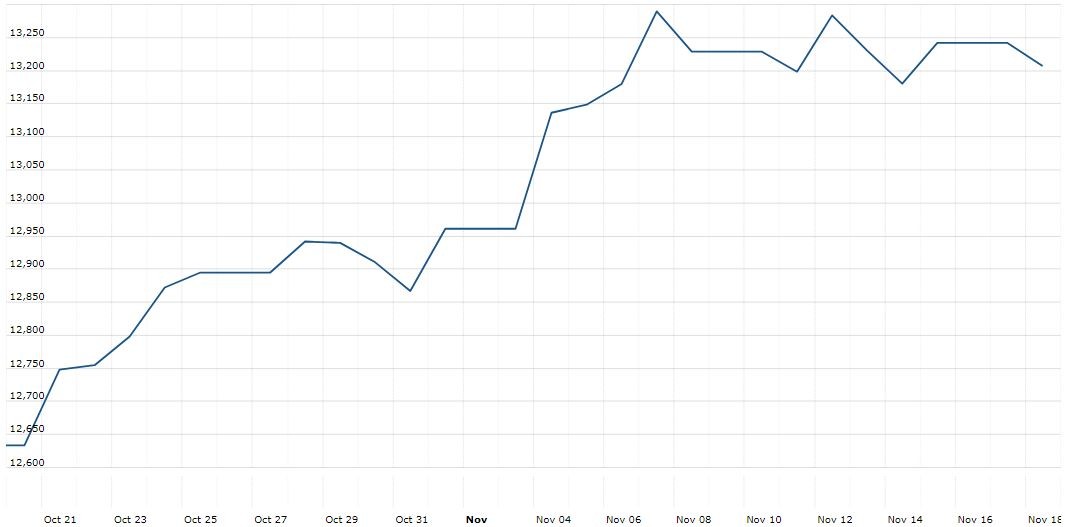 WORLD MARKETS
For the day the Dow is trading at 28,036.22 up with +0.11% percent or +31.33 point. The S&P 500 is trading at 3,122.03 up with +0.050% percent or +1.57 point. The Nasdaq Composite is trading at 8,549.94 up with +0.11% percent or +9.11 point.
In other parts of world, Japan's Nikkei 225 is trading at 23,292.65 with a loss of –0.53% percent or –124.11 point. Hong Kong's Hang Seng is trading at 27,072.95 up with +1.47% percent or +391.86 point. China's Shanghai Composite is trading at 2,933.99 up with +0.85% percent or +24.79   point. India's BSE Sensex is trading at 40,447.93 up with +0.41% percent or +163.74 point at 12:15 PM.