The DAX Futures is trading at 12,388.00 up with +0.00% percent or +0.50 point.The FTSE 100 Futures is trading at 7,277.20 with a loss of -0.58% percent or -42.30 point. The CAC 40 Futures is trading at 5,628.20 up with +0.13% percent or +7.20 point.  The EURO Stoxx 50 Futures trading at 3,522.00 with 0.00% percent or 0.00 point.
TODAY'S FACTORS AND EVENTS
The Swiss National Bank held the SNB policy rate at -0.75 percent during its September meeting, saying that the expansionary monetary policy continues to be necessary given the latest international developments and the inflation outlook. Policymakers agreed that the situation on the foreign exchange market is still fragile, while the Swiss franc remains highly valued.
Excerpt from the Swiss National Bank's statement:
The SNB is adjusting the basis for calculating negative interest as follows. Negative interest will continue to be charged on the portion of banks' sight deposits which exceeds a certain exemption threshold. However, this exemption threshold will now be updated monthly and thereby reflect developments in banks' balance sheets over time.
PREVIOUS DAY ACTIVITY
For the day Germany's DAX closed at 12,398.16  up with +0.07% percent or +0.07%  point.the FTSE 100 closed at 7,327.93 up with +0.19% percent or +17.10 point. France's CAC  40 closed at 5,637.03 up with +0.30% percent or  +16.97 point.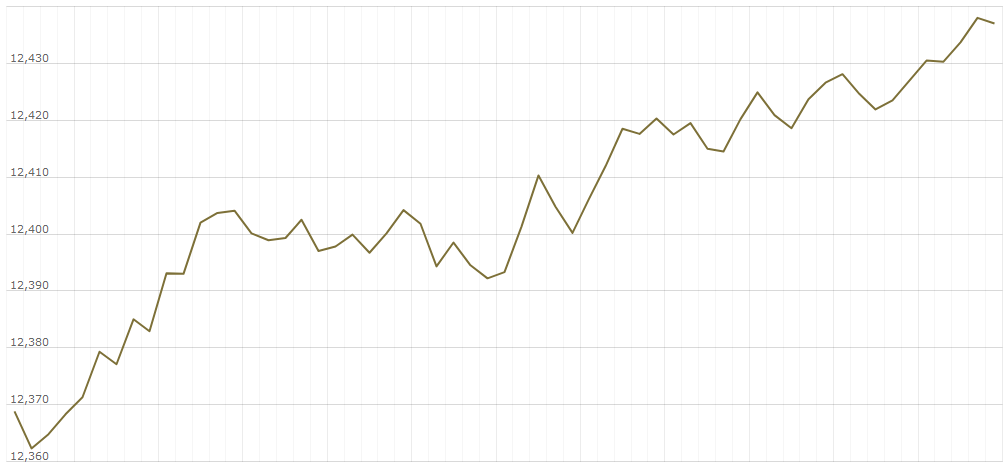 WORLD MARKETS
For the day the Dow is trading at 27,147.08 up with +0.13% percent or +36.28  point. The S&P 500 is trading at 3,006.73 up with +0.034% percent or +1.03 point. The Nasdaq Composite is trading at 8,177.39 with a loss of –0.11% percent or –8.62 point.
In other parts of world, Japan's Nikkei 225 is trading at 22,044.45 up with +0.38% percent or +83.74 point. Hong Kong's Hang Seng is trading at 26,487.03 with a loss of –1.00% percent or –267.09 point. China's Shanghai Composite is trading at 2,999.28 up with +0.46% percent or +13.62 point. India's BSE Sensex is trading at 36,129.65  with a loss of –1.19% percent or –434.23 point at 12:15 PM.