The DAX Futures is trading at 12,399.50   with a loss of  -0.42% percent or -52.40 point.The FTSE 100 Futures is trading at  7,307.00 with a loss of -0.42% percent or -31.00 point. The CAC 40 Futures is trading at 5,607.20  with a loss of -0.66% percent or -37.30 point.  The EURO Stoxx 50 Futures trading at 3,510.00   with a loss of -0.79% percent or -28.00 point.
TODAY'S FACTORS AND EVENTS
The inflation rate in Germany was confirmed at 1.4 percent year-on-year in August 2019, down from 1.7 percent in the previous month. This was the lowest inflation rate since May.
Goods prices were 1.3 percent higher in August (vs 1.8 percent in July), mainly due to a slowdown in energy inflation while food costs rose faster. Also, prices were markedly up for newspapers and periodicals (5.3 percent), tobacco products (3.3 percent) and new passenger cars (2.4 percent). However, prices of other goods were down, in particular those of information processing equipment (-7.7 percent) and telephones (-7.1 percent).
PREVIOUS DAY ACTIVITY
For the day Germany's DAX closed at 12,404.17   with a loss of –0.52% percent or -65.08  point.the FTSE 100 closed at 7,330.64 with a loss of –0.50% percent or –36.82  point. France's CAC  40 closed at 5,625.65  with a loss of –0.55% percent or  –31.35 point.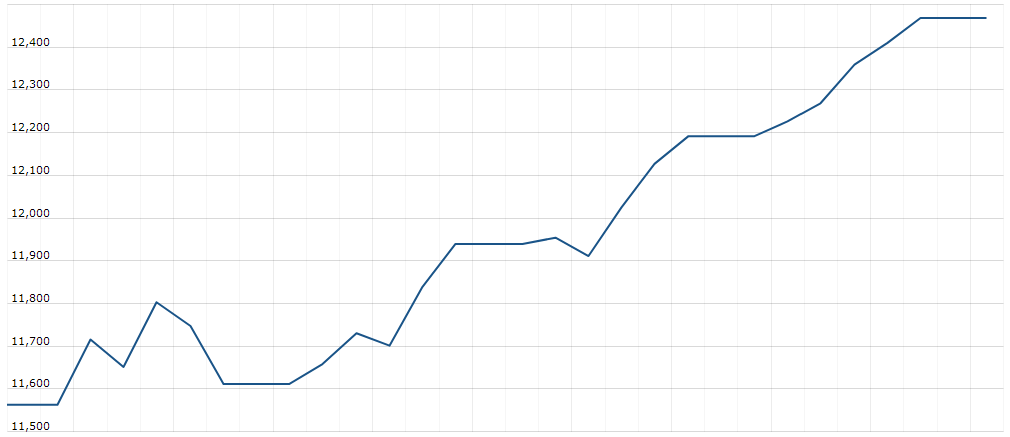 WORLD MARKETS
For the day the Dow is trading at 27,219.52  up with +0.14% percent or +37.07   point. The S&P 500 is trading at 3,007.39  with a loss of –0.072% percent or –2.18 point. The Nasdaq Composite is trading at 8,176.71  with a loss of –0.22% percent or –17.75  point.
In other parts of world, Japan's Nikkei 225 is trading at 21,988.29 up  with +1.05% percent or +228.68 point. Hong Kong's Hang Seng is trading at 27,075.01   with a loss of –1.02% percent or –277.68 point. China's Shanghai Composite is trading at 3,030.75   with a loss of –0.016% percent or –0.48 point. India's BSE Sensex is trading at 37,078.66 with a loss of –0.82% percent or –306.33 point at 12:15 PM.