The DAX Futures is trading at 11,800.00   up with +0.89% percent or +104.50 point. The FTSE 100 Futures is trading at 7,168.20  up with +0.68% percent or +48.70 point. The CAC 40 Futures is trading at 5,425.20  up with +1.10% percent or +59.20 point. The EURO Stoxx 50 Futures trading at 3,396.00 up with +0.92% percent or +31.00 point.
TODAY'S FACTORS AND EVENTS
Germany's seasonally adjusted harmonised unemployment rate edged lower to 3 percent in July 2019 from 3.1 percent in the previous month. This was the lowest jobless rate since February 1980, as the number of unemployed fell further while employment showed no growth.
The number of unemployed people dropped by 1.5 percent to 1.33 million in July from 1.35 million in June, while employment was virtually unchanged at 42.31 million.
Compared with July 2018, unemployment fell by 9.5 percent from 1.47 million and the number of employed rose by 1.4 percent from 41.74 million.
PREVIOUS DAY ACTIVITY
For the day Germany's DAX closed at 11,787.67  up with +0.73% percent or +87.14   point. the FTSE 100 closed at 7,178.59  up with +0.90% percent or +63.86 point. France's CAC  40 closed at 5,422.26  up with 1.00% percent or +53.46 point.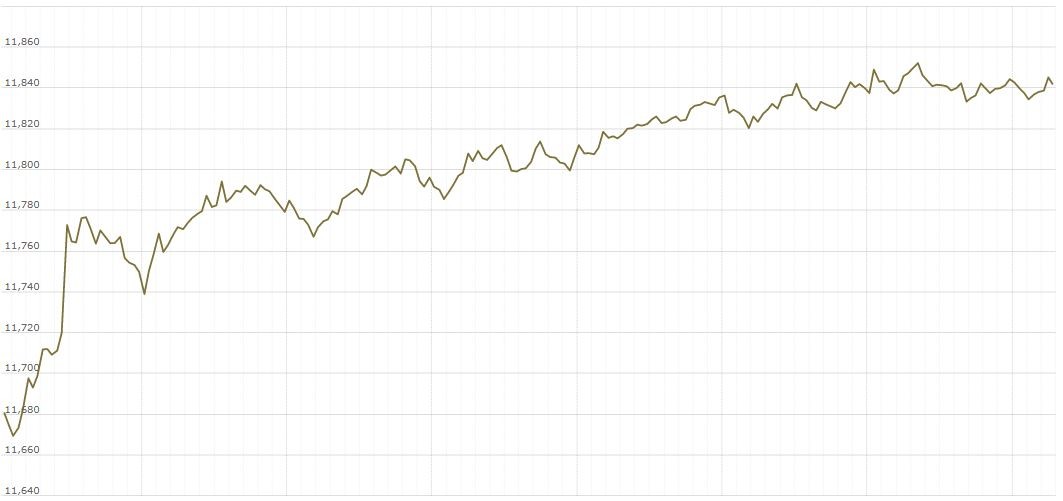 WORLD MARKETS
For the day the Dow is trading at 26,036.10 up with +1.00% percent or +258.20  point. The S&P 500 is trading at 2,887.94  with 0.65% percent or +18.78 point. The Nasdaq Composite is trading at 7,856.88  up with +0.38% percent or +29.94 point.
In other parts of world, Japan's Nikkei 225 is trading at 20,460.93  with a loss of –0.090% percent or –18.49 point. Hong Kong's Hang Seng is trading at 25,703.50 up with +0.34% percent or +88.02 point. China's Shanghai Composite is trading at 2,890.92 with a loss of-0.098% percent or –2.84 point. India's BSE Sensex is trading at 37,238.60 with a loss of –0.57% percent or –213.24 point at 12:15 PM.