The DAX Futures is trading at 11,665.50   with a loss of -0.29% percent or -34.50 point.The FTSE 100 Futures is trading at 7,068.00  with a loss of -0.13% percent or -9.00 point. The CAC 40 Futures is trading at 5,348.50  with a loss of -0.66% percent or -35.50 point.  The EURO Stoxx 50 Futures trading at 3,350.00 with a loss of -0.18% percent or -6.00 point.
TODAY'S FACTORS AND EVENTS
The DAX 30 dropped below the 200-day MA recently, but it was only an affair that lasted a couple of days. The gap on Monday has so far sustained, bringing into play the 11865-resistance level from earlier this month. Beyond there the next level to watch is the gap from the beginning of the month from 12034 up to 12252.
Broadly speaking, price action since May could be taking the shape of a head-and-shoulders pattern, with the current price action working towards a possible right shoulder. This would mean that while the current rally could extend it won't likely extend for much longer before fading and turn back lower.
PREVIOUS DAY ACTIVITY
For the day Germany's DAX closed at 11,670.73  with a loss of –0.51% percent or –57.32  point. the FTSE 100 closed at 7,089.32  with a loss of –0.0037% percent or –0.26 point. France's CAC  40 closed at 5,351.43   with a loss of –0.66% percent or  –35.66 point.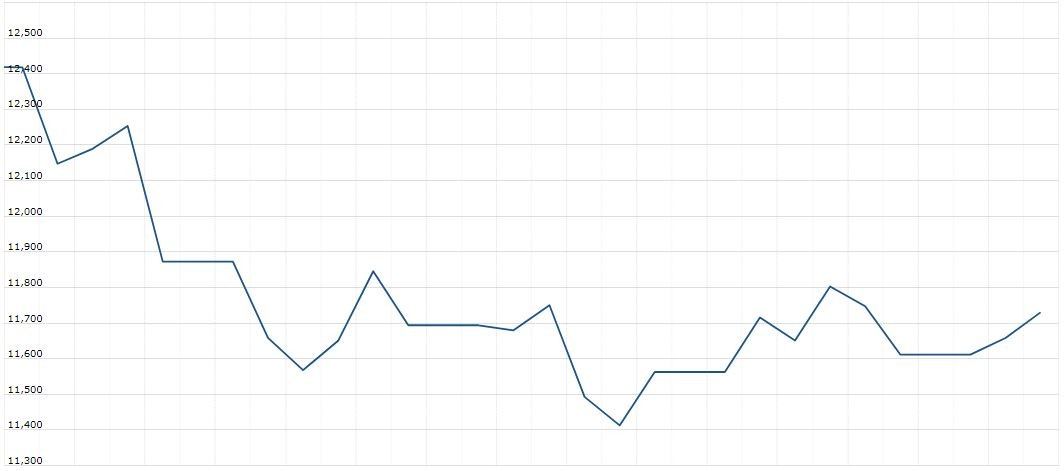 WORLD MARKETS
For the day the Dow is trading at 25,777.90  with a loss of –0.47% percent or –120.93  point. The S&P 500 is trading at 2,869.16  with a loss of –0.32% percent or –9.22 point. The Nasdaq Composite is trading at 7,826.95  with a loss of –0.34% percent or –26.79 point.
In other parts of world, Japan's Nikkei 225 is trading at 20,479.42   up with +0.11% percent or +23.34point. Hong Kong's Hang Seng is trading at 25,626.65 with a loss of –0.15% percent or –37.42 point. China's Shanghai Composite is trading at 2,893.76 with a loss of –0.29% percent or –8.44 point. India's BSE Sensex is trading at 37,410.19 with a loss of –0.61% percent or –231.08 point at 12:15 PM