The DAX Futures is trading at 11,705.50 up with +0.96% percent or +111.80 point.The FTSE 100 Futures is trading at 7,146.80  up with +0.52% percent or +36.80 point. The CAC 40 Futures is trading at 5,382.50 up with +0.77% percent or +41.00 point.  The EURO Stoxx 50 Futures trading at 3,368.00 up with +0.90% percent or +30.00 point.
TODAY'S FACTORS AND EVENTS
Germany's gross domestic product contracted by a seasonally-adjusted 0.1 percent on quarter in the three months to June 2019, following a 0.4 percent expansion in the previous period and matching market expectations, a preliminary estimate showed.
Net external demand contributed negatively to the GDP as exports fell more than imports. In addition, gross fixed capital formation in construction declined; while positive contributions came mostly from household consumption and government spending.
Year-on-year, the economy expanded by a calendar-adjusted 0.4 percent in the second quarter, following an upwardly revised 0.9 percent growth in the previous three-month period and beating forecasts of 0.1 percent. On an unadjusted basis, the economy stagnated, after a 0.8 percent advance in the first quarter.
PREVIOUS DAY ACTIVITY
For the day Germany's DAX closed at 11,703.47 up with +0.45% percent or +52.72 point.the FTSE 100 closed at 7,164.87 up  with +0.56% percent or +39.87 point. France's CAC  40 closed at 5,382.96 up with +0.72% percent or +38.32 point.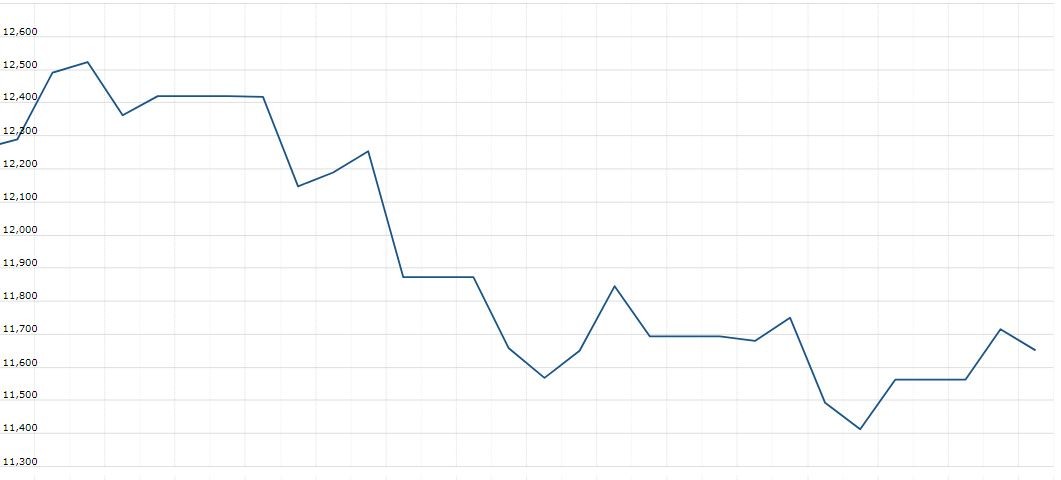 WORLD MARKETS
For the day the Dow is trading at 25,962.44 with a loss of –0.66% percent or  –173.35  point. The S&P 500 is trading at 2,900.51 with a loss of –0.79% percent or –23.14 point. The Nasdaq Composite is trading at 7,948.56  with a loss of –0.68% percent or –54.25 point.
In other parts of world, Japan's Nikkei 225 is trading at 20,618.57  with a loss of –0.28% percent or –58.65 point. Hong Kong's Hang Seng is trading at 26,280.85 up with +0.19% percent or +49.31 point. China's Shanghai Composite is trading at 2,880.33 up with +0.011% percent or +0.33 point. India's BSE Sensex is trading at 37,226.81 with a loss of –0.27% percent or –101.06 point at 12:15 PM.