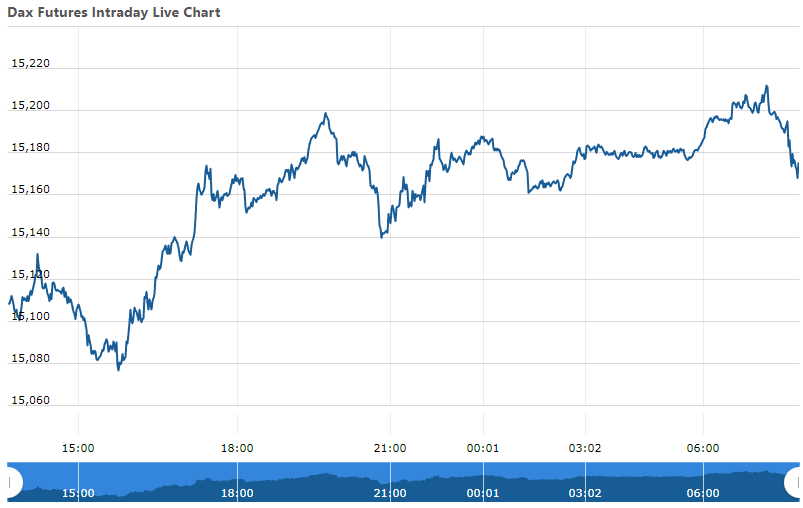 DAX Futures Update : 24 Jan. 2023
The DAX Futures is trading at 15,200.0 with +0.26% percent +40.0 point.The FTSE 100 Futures is trading at 7,787.20 with +0.18% percent or +13.70 point. The CAC 40 Futures is trading at 7,061.00 with +0.78% percent or +54.50 point.  The EURO Stoxx 50 Futures trading at 4,172.00 with +0.29% percent or +12.00 point.
TODAY'S FACTORS AND EVENTS
The GfK Consumer Climate Indicator in Germany rose to -33.9 heading into February of 2023 from a marginally revised -37.6 in January, compared with market expectations of -33.0. The latest reading marked the fourth straight month of improvement in sentiment amid a fall in energy prices, with both income expectations (-32.2 vs -43.4) and economic conditions (-0.6 vs -10.3) increasing noticeably. Meanwhile, the willingness to buy fell slightly (-18.7 vs -16.3), as consumers expect higher heating bills in the coming months. The index hit its record low of -42.8 in October 2022. "Falling energy prices have ensured that consumer sentiment is less gloomy," said Rolf Bürkl, GfK consumer expert. "Nevertheless, 2023 will remain difficult for the domestic economy. Private consumption will not be able to positively contribute to overall economic development this year. This is also signaled by the still very low level of the indicator.
YESTERDAY ACTIVITY
For the day Germany's DAX closed at 15,102.95 up with +0.46% percent or +69.39  point.the FTSE 100 closed at 7,784.67up with  +0.18% percent or +14.08 point. France's CAC 40 closed at 7,032.02 up with +0.52% percent or +36.03  point.
WORLD MARKETS
For the day the Dow is trading at 33,629.56 with 0.76% percent or +254.07 point. The S&P 500 is trading at 4,019.81 with 1.19% percent or +47.20 point. The Nasdaq Composite is trading at 11,364.41 up with 2.01% percent or +223.98  point.
In other parts of world, Japan's Nikkei 225 is trading at 27,338.38 with +1.33% percent or +432.34 point. Hong Kong's Hang Seng is trading at 22,044.65 with 1.82% percent or +393.67 point. China's Shanghai Composite is trading at 3,264.81 with 0.76% percent or +24.53 point. India's BSE Sensex is trading at 61,069.51 with 0.21% percent or +127.84 point at 12:15 PM.