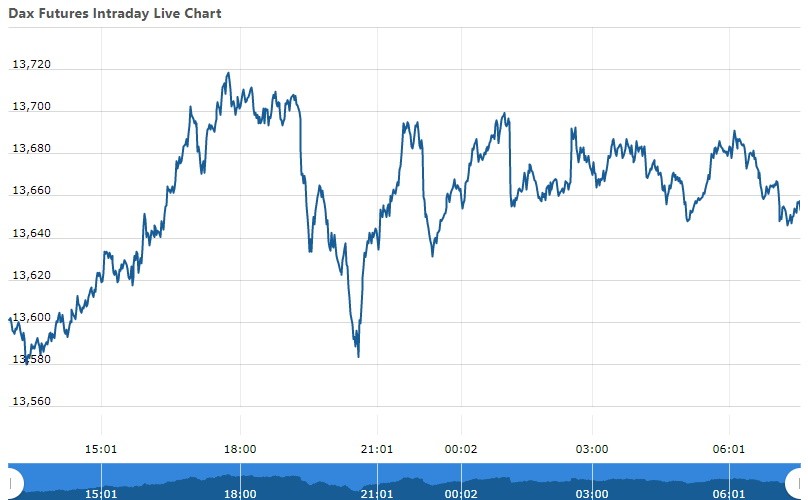 DAX Futures Update : 09 Nov. 2022
The DAX Futures is trading at 13,681.5 with a loss of -0.19% percent -25.5 point.The FTSE 100 Futures is trading at 7,289.50 with -0.27% percent or -19.50 point. The CAC 40 Futures is trading at 6,424.50 with +0.11% percent or +7.00 point.  The EURO Stoxx 50 Futures trading at 3,727.00 with a loss of -0.24% percent or -9.00 point.
TODAY'S FACTORS AND EVENTS
Germany's benchmark 10-year Bund yield extended gains above 2.3%, moving closer to 11-year highs hit at 2.5% on October 21st, amid expectations that the European Central Bank will keep raising rates aggressively to tame stubbornly high inflation despite the ongoing recession risks, as well as increasing bond supply due to public spending to tackle the energy crisis. ECB official Villeroy de Galhau said recently that the central bank must not stop raising interest rates until underlying inflation has peaked, but it may slow the pace of hikes once rates hit a level that starts to restrict growth. In the last two weeks, the ECB, the US Federal Reserve and the Bank of England have delivered 75 bps rate hikes and signaled more increases are to come. Still, the messaging across the central banks diverged, with the Fed hinting at a higher peak in rates and the BoE saying there was no need to increase rates as higher as previously expected.
YESTERDAY ACTIVITY
For the day Germany's DAX closed at 13,688.75 up with +1.15% percent or +155.23 point.the FTSE 100 closed at 7,306.14 up with +0.084% percent or +6.15 point. France's CAC 40 closed at 6,441.50 up with +0.39% percent or +24.89 point.
WORLD MARKETS
For the day the Dow is trading at 33,160.83 up with +1.02% percent or +333.83 point. The S&P 500 is trading at 3,828.11 up with 0.56% percent or +21.31 point. The Nasdaq Composite is trading at 10,616.20 with 0.49% percent or +51.68 point.
In other parts of world, Japan's Nikkei 225 is trading at 27,728.66 with a loss of –0.51% percent or ?143.45 point. Hong Kong's Hang Seng is trading at 16,305.46 with a loss of –1.52% percent or ?251.85  point. China's Shanghai Composite is trading at 3,053.66 with a loss of –0.35% percent or ?10.83 point. India's BSE Sensex is trading at 61,173.47  with a loss of  –0.019% percent or ?11.68 point at 12:15 PM.