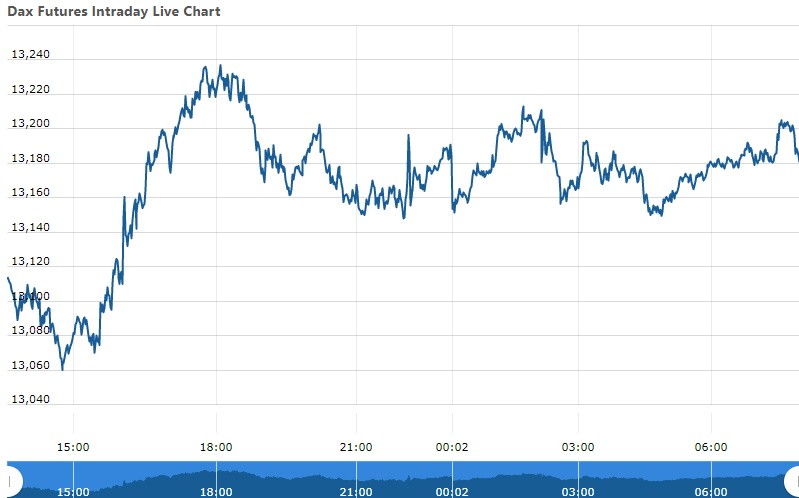 DAX Futures Update : 27 Oct. 2022
The DAX Futures is trading at 13,204.0 up with a loss of  -0.10% percent -13.0 point. The FTSE 100 Futures is trading at 7,042.80 with a loss of -0.22% percent or -15.70 point. The CAC 40 Futures is trading at 6,249.80 with a loss of -0.04% percent or -2.70 point. The EURO Stoxx 50 Futures trading at 3,598.00 with a loss of -0.19% percent or -7.00 point.
TODAY'S FACTORS AND EVENTS
The GfK Consumer Climate Indicator in Germany edged higher to -41.9 heading into November of 2022 from a revised -42.8 in October, and in line with market expectations. It is the first increase in consumer morale after four consecutive months of record low reading, but still points to a negative mood. "It is certainly too early to speak of a trend reversal at the moment. The situation remains very tense for consumer sentiment. It remains to be seen whether the current stabilization will last, or in light of the coming winter, there is reason to fear a further deterioration of the situation" said Rolf Buerkl, GfK consumer expert. In October, there was a slight improvement in both income expectations (-60.5 vs -67.7) and willingness to buy (-17.5 vs -19.5) while the business cycle expectations worsened (-22.2 vs -21.9).
YESTERDAY ACTIVITY
For the day Germany's DAX closed at 13,195.81 up with +1.09% percent or +142.85 point.the FTSE 100 closed at 7,056.07 up with +0.61% percent or +42.59 point. France's CAC 40 closed at 6,276.31up with +0.41% percent or +25.76  point.
WORLD MARKETS
For the day the Dow is trading at 31,839.11 with 0.0074% percent or +2.37 point. The S&P 500 is trading at 3,830.60 with a loss of –0.74% percent or ?28.51 point. The Nasdaq Composite is trading at 10,970.99 with a loss of –2.04% percent or ?228.12 point.
In other parts of world, Japan's Nikkei 225 is trading at 27,388.42 with 0.16% percent or ?43.42 point. Hong Kong's Hang Seng is trading at 15,547.76 up with 1.50% percent or +230.09  point. China's Shanghai Composite is trading at 2,987.58 with a loss of –0.40% percent or ?11.92  point. India's BSE Sensex is trading at 59,761.09 up with +0.36% percent or +217.13 point at 12:15 PM.