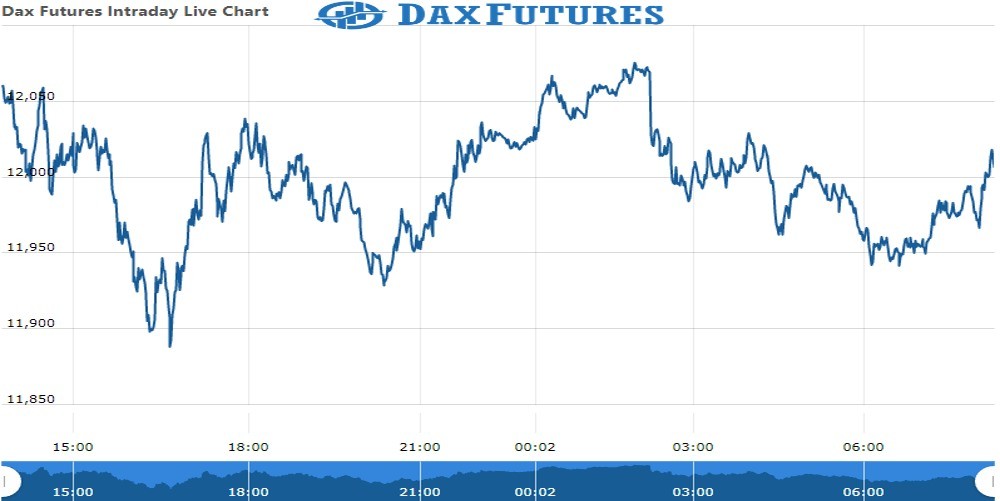 DAX Futures Update : 30 Sept. 2022
The DAX Futures is trading at 11,989.0 with a loss of -0.37% percent -44.0 point.The FTSE 100 Futures is trading at 6,869.80 with a loss of -0.29% percent or -20.20 point. The CAC 40 Futures is trading at 5,691.80 with a loss of -1.30% percent or -74.70 point.  The EURO Stoxx 50 Futures trading at 3,276.00 with a loss of -0.27% percent or -9.00 point.
TODAY'S FACTORS AND EVENTS
Germany's consumer price inflation jumped to 10 percent year-on-year in September 2022, the highest on record and well above market expectations of 9.4 percent, a preliminary estimate showed. Consumer prices have been rising in the wake of a deepening energy crisis in Europe's largest economy, as well as the continuing supply chain interruptions. The goods inflation increased to 17.2 percent from 14.7 percent in August, led by rising cost of energy (43.9 percent vs 35.6 percent) and food (18.7 percent vs 16.6 percent). In addition, prices of services advanced at a faster 3.6 percent, compared with 2.2 percent in August, even as the rents inflation eased to 1.7 percent from 1.8 percent. On a monthly basis, consumer prices were up 1.9 percent in September, the largest increase since March's near record-high advance of 2.5 percent.
YESTERDAY ACTIVITY
For the day Germany's DAX closed at 11,975.55 with a loss of –1.71% percent or -207.73   point.the FTSE 100 closed at 6,881.59 with a loss of  –1.77% percent or –123.80 point. France's CAC 40 closed at 5,676.87 with a loss of –1.53% percent or –88.14  point.
WORLD MARKETS
For the day the Dow is trading at 29,225.61  with a loss of –1.54% percent or -458.13 point. The S&P 500 is trading at 3,640.47 with a loss of – 2.11% percent or -78.57 point. The Nasdaq Composite is trading at 10,737.51 with a loss of 2.84%  percent or -314.13  point.
In other parts of world, Japan's Nikkei 225 is trading at 25,815.25 with a loss of –2.30% percent or -606.80  point. Hong Kong's Hang Seng is trading at 17,154.48 with a loss of –0.066% percent or –11.39  point. China's Shanghai Composite is trading at 3,034.85 with a loss of –0.21% percent or -6.36 point. India's BSE Sensex is trading at 56,606.45 up with +0.35% percent or +196.49  point at 12:15 PM.