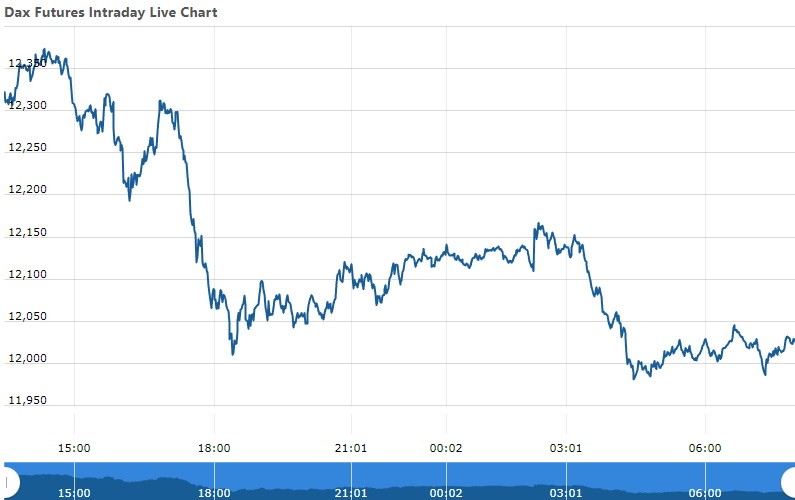 DAX Futures Update : 28 Sept. 2022
The DAX Futures is trading at 12,027.0 with a loss of -1.15% percent -140.0 point.The FTSE 100 Futures is trading at 6,934.00 with a loss of -0.67% percent or -46.80 point. The CAC 40 Futures is trading at 5,742.50 with a loss of -0.49% percent or -28.50 point.  The EURO Stoxx 50 Futures trading at 3,294.00 with a loss of -0.54% percent or -18.00 point.
TODAY'S FACTORS AND EVENTS
The Ifo Business Climate indicator for Germany dropped to 84.3 in September 2022, the lowest level since the aftermath of the COVID-19 pandemic shock in May 2020 and well below market consensus of 87.0. Expectations for the coming months were significantly more pessimistic (75.2 vs 80.5 in August), led by record-low expectations in the retail sector, as well as companies' assessments of their current situation (94.5 vs 97.5). The mood has soured across all sectors, with energy intensive industries particularly pessimistic about the coming months and nearly two thirds of companies concerned about supply bottlenecks. By sector, sentiment worsened among manufacturers (-14.2 vs -6.8), service providers (-8.9 vs 1.4), traders (-32.3 vs -25.8), and constructors (-21.6 vs -14.8).
YESTERDAY ACTIVITY
For the day Germany's DAX closed at 12,139.68 with a loss of  –0.72% percent or -88.24   point.the FTSE 100 closed at 6,984.59 with a loss of –0.52% percent or –36.36 point. France's CAC 40 closed at 5,753.82  with a loss of –0.27% percent or –15.57  point.
WORLD MARKETS
For the day the Dow is trading at 29,134.99  with a loss of –0.43% percent or -125.82 point. The S&P 500 is trading at 3,647.29 with a loss of –0.21% percent or -7.75 point. The Nasdaq Composite is trading at 10,829.50 up with +0.25%  percent or +26.58  point.
In other parts of world, Japan's Nikkei 225 is trading at 26,021.25 up with 2.07% percent or -550.62  point. Hong Kong's Hang Seng is trading at 17,409.75 with a loss of –2.52% percent or ?450.56  point. China's Shanghai Composite is trading at 3,059.62 with a loss of –1.11% percent or -34.24 point. India's BSE Sensex is trading at 56,783.40 with a loss of 0.57% percent or -324.12  point at 12:15 PM