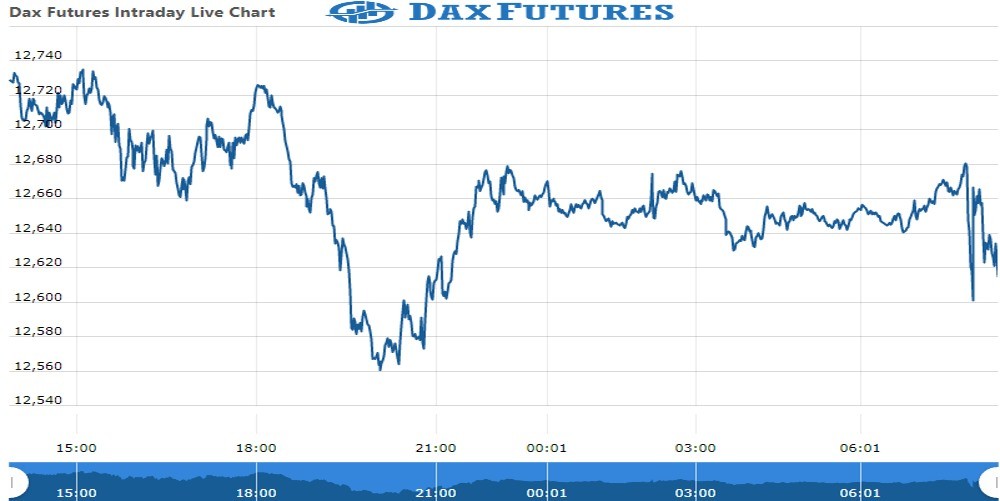 DAX Futures Update : 21 Sept. 2022
The DAX Futures is trading at 12,666.5 with a loss of -0.14% percent -17.5 point. The FTSE 100 Futures is trading at 7,184.20 with a loss of -0.31% percent or -22.30 point. The CAC 40 Futures is trading at 5,943.00 with a loss of -0.38% percent or -22.50 point. The EURO Stoxx 50 Futures trading at 3,452.00 with a loss of -0.09% percent or -3.00 point.
TODAY'S FACTORS AND EVENTS
The yield on the German 10-year Bund rose past the 1.9% level, the highest since December of 2013 and tracking surging bond yields worldwide as major central banks are set to extend their aggressive rate-hiking paths in efforts to control surging inflation. The Federal Reserve, Bank of England, and Swiss National Bank are among the larger names to set to tighten policy after the Swedish Riksbank surprised markets and raised their key rate by a full percentage point. Meanwhile, European Central Bank chief economist Lane said that high demand in the Euro Area's economy is contributing to inflation, adding that interest rates could continue to be increased until 2023. On top of that, ECB Vice-President de Guindos stated that the slowdown in growth will not be enough to solely reduce inflation to healthy levels, adding to the recent emphasis on the sharp rate hikes to come.
YESTERDAY ACTIVITY
For the day Germany's DAX closed at 12,670.83 with a loss of  -1.03% percent or -132.41   point.the FTSE 100 closed at 7,192.66 with a loss of –0.61% percent or –44.02 point. France's CAC 40 closed at 5,979.47  with a loss of –1.35% percent or –82.12   point.
WORLD MARKETS
For the day the Dow is trading at 30,706.23  with a loss of –1.01% percent or -313.45  point. The S&P 500 is trading at 3,855.93 with a loss of –1.13% percent or ?43.96 point. The Nasdaq Composite is trading at 11,425.05 with a loss of –0.95% percent or -109.97  point.
In other parts of world, Japan's Nikkei 225 is trading at 27,354.51 with a loss of –1.21% percent or -333.91  point. Hong Kong's Hang Seng is trading at 18,480.45 with a loss of – 1.60% percent or  –300.97 point. China's Shanghai Composite is trading at 3,105.50 with a loss of –0.54% percent or -16.91 point. India's BSE Sensex is trading at 59,759.82  up with +0.067% percent or +40.08  point at 12:15 PM.