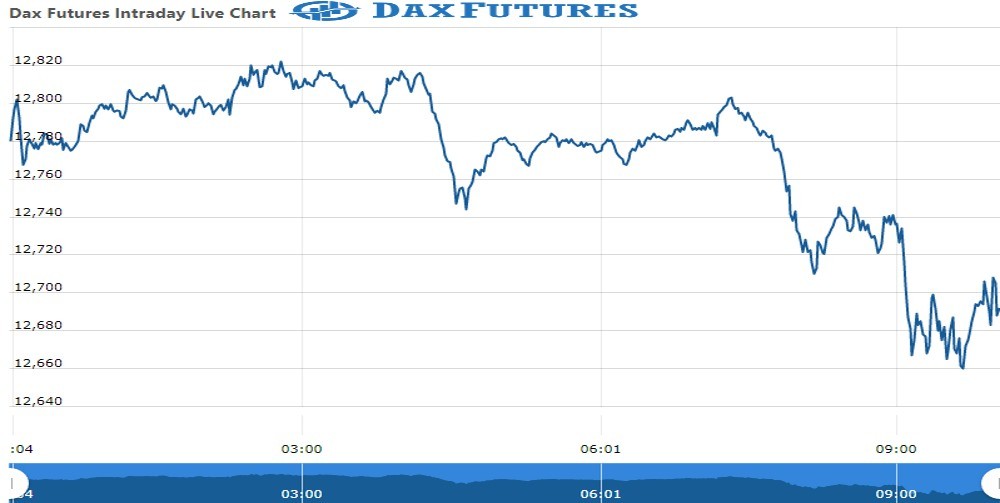 DAX Futures Update : 19 Sept. 2022
The DAX Futures is trading at 12,694.0 with -0.45% percent -57.0 point.The FTSE 100 Futures is trading at 7,271.00 with -0.29% percent or -21.00 point. The CAC 40 Futures is trading at 6,007.80 with a loss of -1.08% percent or -65.70 point.  The EURO Stoxx 50 Futures trading at 3,464.00 with a loss of -0.92% percent or -32.00 point.
TODAY'S FACTORS AND EVENTS
Wholesale prices in Germany rose by 18.9% year-on-year in August of 2022, following a 19.5% gain in July and easing for the fourth straight month, amid high prices for raw materials and intermediate products as the war in Ukraine lingered. The largest impact came from cost of mineral oil products (54.3%), solid fuels (99.2%), grain, unmanufactured tobacco, seeds, etc (38.0%), and metals and metal ores (5.9%). Compared with the previous month, wholesale prices increased by 0.1 percent in August, shifting from a 0.4 percent fall in July.
YESTERDAY ACTIVITY
For the day Germany's DAX closed at 12,653.85 with  a loss of –0.69% percent or -87.41  point.the FTSE 100 closed at 7,236.68 with a loss of –0.62% percent or –45.39  point. France's CAC 40 closed at 5,996.12  with a loss of –1.34% percent or ?81.18  point.
WORLD MARKETS
For the day the Dow is trading at 30,822.42 with a loss of  -0.45% percent or ?139.40  point. The S&P 500 is trading at 3,873.33 with a loss of –0.72% percent or ?28.02 point. The Nasdaq Composite is trading at 11,448.40 with a loss of –0.90% percent or ?103.95  point.
In other parts of world, Japan's Nikkei 225 is trading at 27,567.65 with a loss of –1.11% percent or ?308.26  point. Hong Kong's Hang Seng is trading at 18,610.74 with  a loss of –0.80% percent or -150.95  point. China's Shanghai Composite is trading at 3,114.54 with a loss of –0.38% percent or -11.85 point. India's BSE Sensex is trading at 59,219.50  up with +0.64% percent or +378.71  point at 12:15 PM.