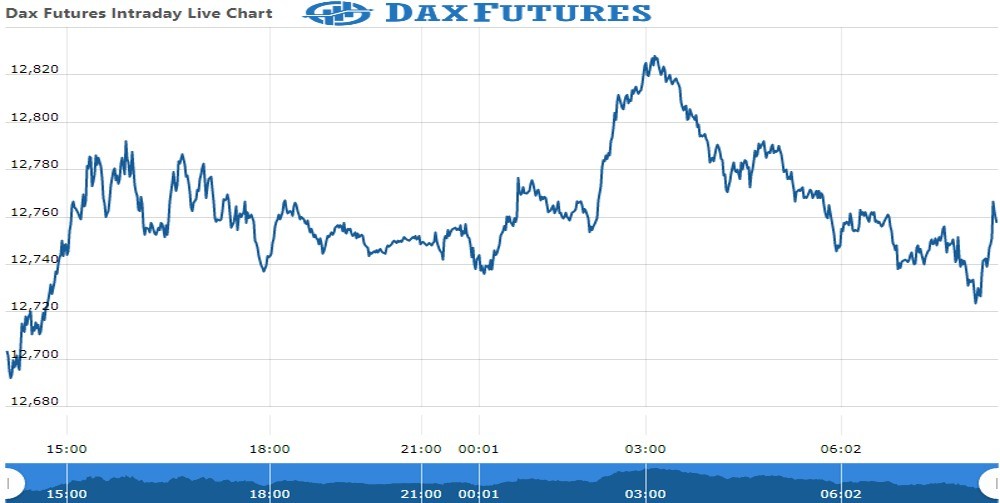 DAX Futures Update : 01 Sept. 2022
The DAX Futures is trading at 12,743.0 with a loss  of  -0.81% percent -104.0 point.The FTSE 100 Futures is trading at 7,238.00 with a loss of  -0.68% percent or -49.50 point. The CAC 40 Futures is trading at 6,061.50 with a loss of -0.66% percent or -40.30 point. The EURO Stoxx 50 Futures trading at 3,482.00 up with -1.08% percent or -38.00 point.
TODAY'S FACTORS AND EVENTS
Factory orders in Germany fell 1.1% month-over-month in July of 2022, after a downwardly revised 0.3% drop in the prior month and compared with market forecasts of a 0.5% decline. It marked the sixth consecutive month of lower manufacturing orders, amid persistently high inflation and supply chain issues. Domestic orders fell 4.5%, and in the Euro Area by 6.4%. Meanwhile, total foreign orders rose 1.3%, led by those from countries outside the Euro Area (6.5%). Orders decreased for capital goods (-0.2%) but increased for intermediate goods (1.5%). Meantime, consumer goods plunged 16.9%, mainly due to a decline in manufacture of pharmaceutical products.
YESTERDAY ACTIVITY
For the day Germany's DAX closed at 12,834.96 with 0.97% percent or ?126.18  point.the FTSE 100 closed at 7,284.15 with a loss of –1.05% percent or ?77.48  point. France's CAC 40 closed at 6,125.10  with a loss of –1.37% percent or ?85.12  point.
WORLD MARKETS
For the day the Dow is trading at 31,510.43 with a loss of –0.88% percent or -280.44  point. The S&P 500 is trading at 3,955.00  up with 0.78% percent or ?31.16  point. The Nasdaq Composite is trading at 11,816.20 with a loss of 0.56% percent or -66.93  point.
In other parts of world, Japan's Nikkei 225 is trading at 27,626.46 with a loss of –1.66% percent or -465.07 point. Hong Kong's Hang Seng is trading at 19,612.62 with a loss of –1.71% percent or -341.77 point. China's Shanghai Composite is trading at 3,199.58 with a loss of –0.080% percent or ?2.56 point. India's BSE Sensex is trading at 59,145.34  with a loss of –0.66% percent or -391.73  point at 12:15 PM.