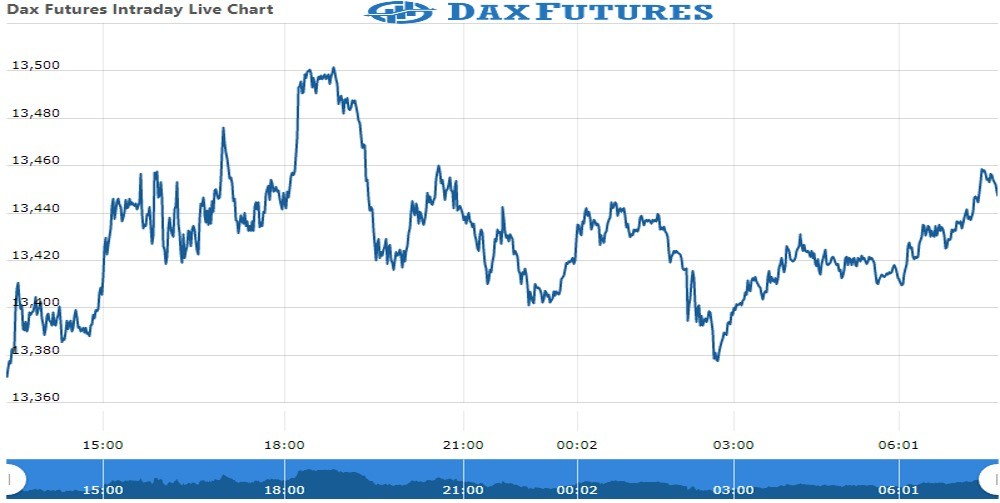 DAX Futures Update : 03 August. 2022
The DAX Futures is trading at 13,440.5 with -0.04% percent -5.5 point. The FTSE 100 Futures is trading at 7,354.50 with +0.22% percent or +16.00 point. The CAC 40 Futures is trading at 6,386.00 with -0.86% percent or -55.20 point.The EURO Stoxx 50 Futures trading at 3,682.00 up with +0.27% percent or +10.00 point.
TODAY'S FACTORS AND EVENTS
The yield on the German 10-year Bund fell to the 0.7% level, the lowest in over three months, as the worsening macroeconomic backdrop and strict measures to save energy drove investors to safer government debt. Low natural gas storage levels in Germany raised concerns of harsh rationing ahead of the winter, while the EU agreed to cut back gas usage by 15% until March. In the meantime, PMI figures confirmed that manufacturing activity in the Eurozone's largest economies contracted in July. Concerns of economic slowdown were also prevalent amid Germany's stalled GDP in Q2 and an increase in unemployment. In the meantime, investors continued to assess the impact that the TPI may have on bond yield spreads.
YESTERDAY ACTIVITY
For the day Germany's DAX closed at 13,449.20 with a loss of -0.23% percent or ?30.43   point.the FTSE 100 closed at 7,409.11 with a loss of –0.058% percent or ?4.31  point. France's CAC 40 closed at 6,409.80 with a loss of –0.42% percent or ?27.06 point.
WORLD MARKETS
For the day the Dow is trading at 32,396.17 with a loss of –1.23% percent or -402.23  point. The S&P 500 is trading at 4,091.19 with a loss of -0.67% percent or -27.44  point. The Nasdaq Composite is trading at 12,348.76 up with 0.16% percent or ?20.22 point.
In other parts of world, Japan's Nikkei 225 is trading at 27,714.47  up with +0.43% percent or +119.74 point. Hong Kong's Hang Seng is trading at 19,877.42 up with +0.96% percent or +188.21  point. China's Shanghai Composite is trading at 3,203.78 up with +0.55% percent or +17.51 point. India's BSE Sensex is trading at 57,924.30 with a loss of 0.36% percent or ?212.06 point at 12:15 PM.