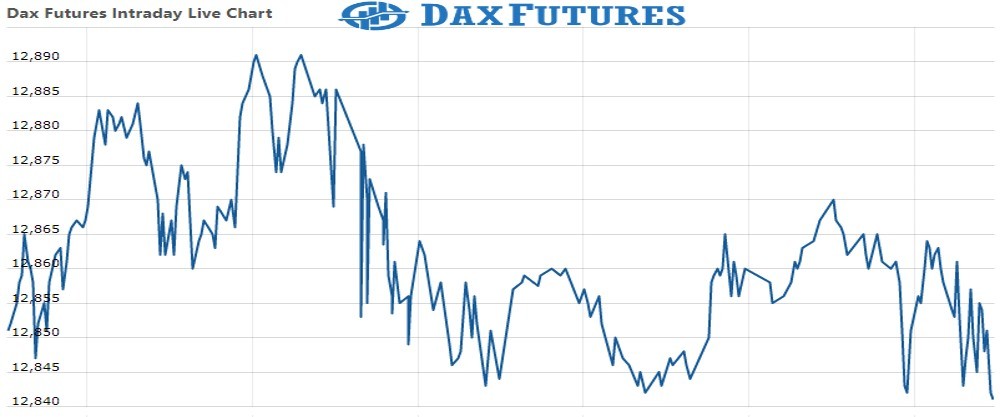 DAX Futures Update : 05 July. 2022
The DAX Futures is trading at 12,912.0 with +0.63%percent  +81.0 point. The FTSE 100 Futures is trading at 7,206.50 with +0.29% percent or +20.50 point. The CAC 40 Futures is trading at 5,948.50 with +0.44% percent or +26.00 point.The EURO Stoxx 50 Futures trading at 3,467.00 up with +0.61% percent or +21.00 point.
TODAY'S FACTORS AND EVENTS
The yield on the 10-year German Bund rose above the 1.3% level, bouncing off the one-month low of 1.16% from July 1 as investors halted their flight to safer assets. Investors continued to assess heightened recession risks amid the outlook of tighter monetary policy by the ECB, as inflation continuously accelerates. The latest CPI figures pointed to a record-high annual inflation rate of 8.6% in the currency bloc, as higher than expected readings from France, Italy, and Spain offset slowed price growth in Germany. During the ECB's annual forum, President Lagarde stated that the central bank would increase the pace of its tightening path in Q3 should the inflation outlook remain high. Concerns of economic slowdown magnified as June manufacturing PMI data pointed to the first contraction in production and new orders in the Eurozone since 2020, pointing to a sharp drop in demand.
YESTERDAY ACTIVITY
For the day Germany's DAX closed at 12,773.38 with a loss of –0.31% percent or -39.65  point.the FTSE 100 closed at 7,232.65 up with +0.89% percent or +64.00  point. France's CAC 40 closed at 5,954.65 with 0.40% percent or +23.59  point.
WORLD MARKETS
For the day the Dow is trading at 31,097.26 up with +1.05% percent or +321.83  point. The S&P 500 is trading at 3,825.33  up with +1.06% percent or +39.95 point. The Nasdaq Composite is trading at 11,127.84 up with +0.90% percent or +99.11   point.
In other parts of world, Japan's Nikkei 225 is trading at 26,418.35 up with +1.01% percent or +264.54  point. Hong Kong's Hang Seng is trading at 21,850.68  with 0.093% percent or +20.33  point. China's Shanghai Composite is trading at 3,386.25 with a loss of –0.56% percent or ?19.18  point. India's BSE Sensex is trading at 53,839.77  up with +1.14% percent or +605.00  point at 12:15 PM.