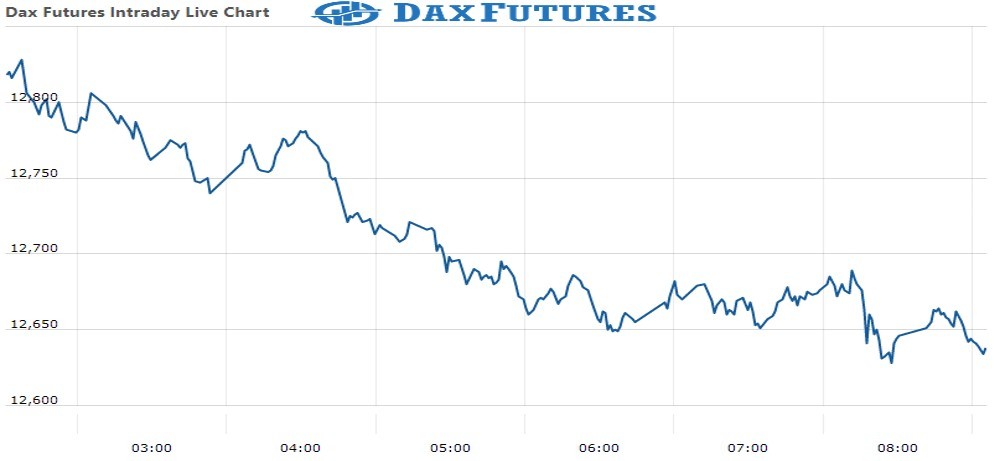 Dax Futures Update : 01 July. 2022
The DAX Futures is trading at 12,646.0 with a loss of -0.98% percent  -125.0 point. The FTSE 100 Futures is trading at 7,069.50 with -0.72% percent or -51.50 point. The CAC 40 Futures is trading at 5,861.50 with a loss of -0.89% percent or -52.50 point. The EURO Stoxx 50 Futures trading at 3,409.00 with -0.93% percent or -32.00 point.
TODAY'S FACTORS AND EVENTS
The seasonally adjusted unemployment rate in Germany increased to a seven-month high of 5.3% in June of 2022 after staying at pre-pandemic levels of 5% for a third consecutive month in May. The increase was prompted by Ukrainian refugees registering with the labour office in search of work. Still, "the labor market as a whole continues to be stable," Federal Labor Agency chief Detlef Scheele said.
YESTERDAY ACTIVITY
For the day Germany's DAX closed at 12,783.77 with 1.69% percent or ?219.58  point.the FTSE 100 closed at 7,169.28 with a loss of –1.96% percent or –143.04  point. France's CAC 40 closed at 5,922.86 with a loss of –1.80% percent or –108.62  point.
WORLD MARKETS
For the day the Dow is trading at 30,775.43 with a loss of –0.82% percent or ?253.88  point. The S&P 500 is trading at 3,785.38  with a loss of –0.88% percent or –33.45 point. The Nasdaq Composite is trading at 11,028.74 with a loss pf –1.33% percent or –149.16  point.
In other parts of world, Japan's Nikkei 225 is trading at 25,935.62 with a loss of –1.73% percent or –457.42  point. Hong Kong's Hang Seng is trading at 21,859.79  with a loss of –0.62% percent or –137.10 point. China's Shanghai Composite is trading at 3,384.99 with a loss of –0.40% percent or ?13.63 point. India's BSE Sensex is trading at 52,596.75  with a loss of –0.80% percent or ?422.19  point at 12:15 PM.