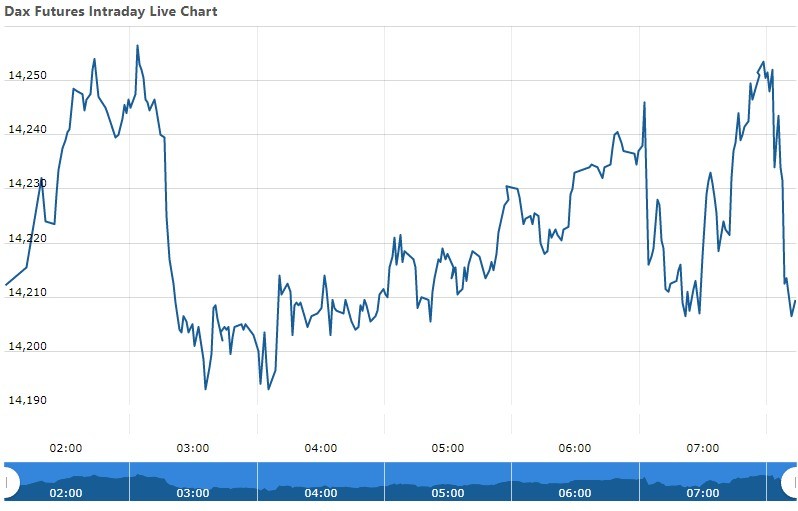 Dax Futures Update : 20 April. 2022
The DAX Futures is trading at 14,248.50 with +0.25% percent  +35.40 point.The FTSE 100 Futures is trading at 7,585.20 up with +0.18% percent or +13.70 point. The CAC 40 Futures is trading at 6,488.50 with -0.02% percent or -1.50 point.  The EURO Stoxx 50 Futures trading at 3,780.00 up with +0.08% percent or +3.00 point.
TODAY'S FACTORS AND EVENTS
The yield on the German 10-year Bund rose past 0.9% for the first time since 2015 as investors continue to sell off government bonds on expectations of more aggressive interest rate increases in coming months by the Federal Reserve which is trying to bring down inflation. Also, there are reports of ECB's Holzmann calling for 50 bps rate hikes by fall, and Estonia's governor Muller flagging the chance of the bond purchase programme ending in July. The ECB said that any adjustments to interest rates will take place some time after the end of the Governing Council's net purchases under the APP, expected in Q3, and will be gradual. On the data front, Germany's March inflation was confirmed at 7.3%, the highest since 1981, while wholesale inflation hit a record high. Meanwhile, President Emmanuel Macron clinch the top spot in the 1st round of the French presidential election but far-right leader Marine Le Pen's close second-place finish sets up a competitive runoff election on April 24.
YESTERDAY ACTIVITY
For the day Germany's DAX closed at 14,153.46 with a loss of –0.073% percent or ?10.39 point.the FTSE 100 closed at 7,601.28 with a loss of –0.20% percent or ?15.10  point. France's CAC 40 closed at 6,534.79 with a loss of –0.83% percent or ?54.56 point.
WORLD MARKETS
For the day the Dow is trading at 34,911.20 up with 1.45% percent or +499.51 point. The S&P 500 is trading at 4,462.21 up with +1.61% percent or +70.52 point. The Nasdaq Composite is trading at 13,619.66 up with +2.15% percent or +287.30  point.
In other parts of world, Japan's Nikkei 225 is trading at 27,225.21 with 0.89% percent or +240.12   point. Hong Kong's Hang Seng is trading at 21,031.31 with 0.017% percent or +3.55  point. China's Shanghai Composite is trading at 3,161.87 with a loss of –1.01% percent or ?32.16  point. India's BSE Sensex is trading at 56,857.05 up with +0.63% percent or +354.67  point at 12:15 PM.