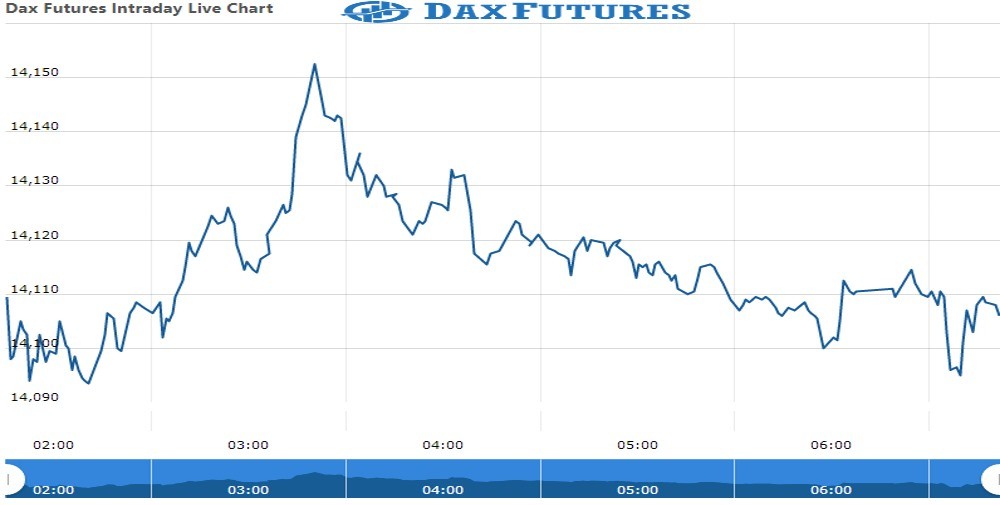 DAX Futures Update : 07 April. 2022
The DAX Futures is trading at 14,109.50 with a loss of -0.26% percent  -36.60 point.The FTSE 100 Futures is trading at 7,530.80 with a loss of -0.02% percent or -1.70 point. The CAC 40 Futures is trading at 6,501.50 with a loss of -2.12% percent or -141.00 point.  The EURO Stoxx 50 Futures trading at 3,734.00 with a loss of -0.35% percent or -13.00 point.
TODAY'S FACTORS AND EVENTS
The yield on the German 10-year Bund bounced back 0.65%, closing in on a nearly 4-year high of 0.74% hit on March 29th, as investors anticipate accelerated monetary tightening cycles to tackle rising inflation. On Tuesday, Fed Governor Lael Brainard indicated support for higher interest rates and said the swift reduction of the central bank's balance sheet could begin as soon as May. In Europe, flash estimates showed the headline HICP rate in the Eurozone surged again in March, reaching a new all-time high of 7.5% year-on-year compared to 5.9% in February and well above market expectations of 6.6%.
.
YESTERDAY ACTIVITY
For the day Germany's DAX closed at 14,151.69 with a loss of –1.89% percent or -272.67 point.the FTSE 100 closed at 7,587.70 with a loss of –0.34% percent or ?26.02  point. France's CAC 40 closed at 6,498.83 with a loss of –2.21% percent or –146.68 point.
WORLD MARKETS
For the day the Dow is trading at 34,496.51 with a loss of –0.42% percent or –144.67 point. The S&P 500 is trading at 4,481.15 with a loss of –0.97% percent or –43.97 point. The Nasdaq Composite is trading at 13,888.82 with a loss of –2.22% percent or –315.35   point.
In other parts of world, Japan's Nikkei 225 is trading at 26,902.43  with a loss of –1.64% percent or ?447.87 point. Hong Kong's Hang Seng is trading at 21,797.57 with a loss of –1.28% percent or –282.95 point. China's Shanghai Composite is trading at 3,245.47 with a loss of –1.16% percent or –37.95 point. India's BSE Sensex is trading at 59,137.33 with a loss of –0.79% percent or 473.08    point at 12:15 PM.