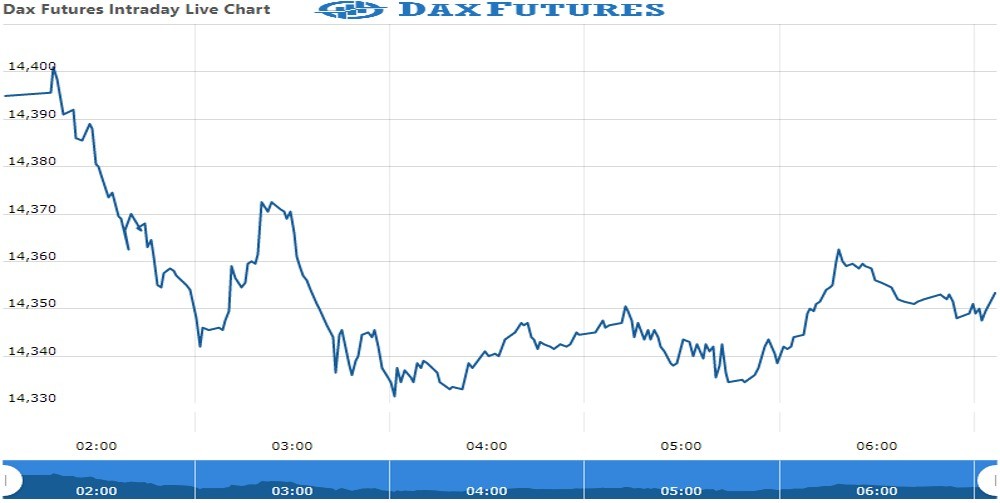 DAX Futures Update : 06 April. 2022
The DAX Futures is trading at 14,352.00 with a loss of -0.37% percent  -54.00 point.The FTSE 100 Futures is trading at 7,549.00 with a loss of -0.01% percent or -1.00 point. The CAC 40 Futures is trading at 6,626.50 with a loss of -1.52% percent or -102.50 point.  The EURO Stoxx 50 Futures trading at 3,810.00 with a loss of -0.29% percent or -11.00 point.
TODAY'S FACTORS AND EVENTS
The S&P Global Germany Services PMI was revised higher to 56.1 in March of 2022 from a preliminary of 55, pointing to the strongest growth in the services sector in six months, aided by the loosening of COVID related restrictions. This coincided with another round of robust jobs growth. However, firms' expectations towards future activity were dealt a blow as Russia's invasion of Ukraine led to widespread uncertainty and fuelled a spike in price pressures. March saw rates of both input cost and output price inflation accelerate sharply to new record highs.
.
YESTERDAY ACTIVITY
For the day Germany's DAX closed at 14,424.36 with a loss of –0.65% percent or ?93.80 point. the FTSE 100 closed at 7,613.72 up with +0.72% percent or +54.80  point. France's CAC 40 closed at 6,645.51 with a loss of –1.28% percent or –85.86 point.
WORLD MARKETS
For the day the Dow is trading at 34,641.18 with a loss of –0.80% percent or ?280.70 point. The S&P 500 is trading at 4,525.12 with a loss of –1.26% percent or –57.52 point. The Nasdaq Composite is trading at 14,204.17 with a loss of –2.26% percent or –328.39   point.
In other parts of world, Japan's Nikkei 225 is trading at 27,319.32  with a loss of –1.69% percent or 1.69% point. Hong Kong's Hang Seng is trading at 22,181.86 with a loss of –1.42% percent or ?320.45 point. China's Shanghai Composite is trading at 3,275.45 with a loss of –0.22% percent or –7.26 point. India's BSE Sensex is trading at 59,695.17 with a loss of –0.80% percent or –481.33   point at 12:15 PM.