The DAX Futures is trading at 11,787.00 up with +0.53% or +62.00 point.The FTSE 100 Futures is trading at 6,140.50 up with +0.31% percent or +19.20  point. The CAC 40 Futures is trading at 4,759.20 up with +1.56% percent or +73.20 point.  The EURO Stoxx 50 Futures trading at 3,092.00 up with +0.91% percent or +28.00 point.
TODAY'S FACTORS AND EVENTS
The beginning of the week saw the European Commission announce its recovery aid proposal, which propelled European assets higher with the DAX trading at its highest level since the beginning of March. However, with the "frugal four" already highlighting that the package should largely be in the form of loans, tough negotiations are ahead. Alongside this, the ECB is due to release its latest monetary policy decision, expectations are for the central bank to expand PEPP (Pandemic Emergency Purchase Programme). However, with US-China tensions persisting, risks are asymmetrically tilted to the downside, 12000 level likely to be a tough nut to crack.
YESTERDAY ACTIVITY
For the day Germany's DAX closed at 11,586.85  with a loss of – 1.65% percent or –194.28  point.the FTSE 100 closed at 6,076.60 with a loss of –2.29% percent or ?142.19 point. France's CAC  40 closed at 4,695.44 with a loss of –1.59% percent or –75.95 point.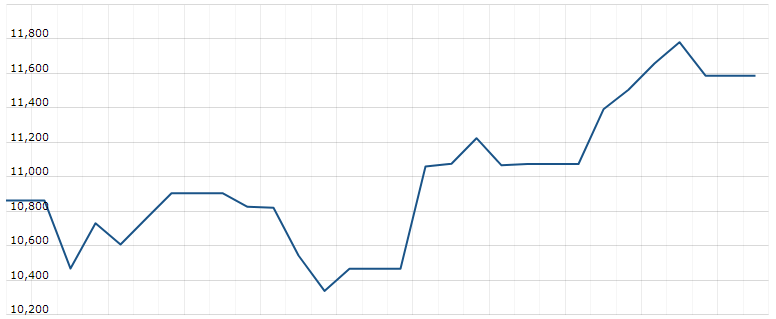 WORLD MARKETS
For the day the Dow is trading at 25,383.11 with a loss of -0.069% percent or -17.53 point. The S&P 500 is trading at 3,044.31  up with +0.48% percent or +14.58 point. The Nasdaq Composite is trading at 9,489.87 with 1.29% percent or +120.88 point.
In other parts of world, Japan's Nikkei 225 is trading at at 22,062.39  up with +0.84% percent or +184.50 point. Hong Kong's Hang Seng is trading at 23,748.47 up with +3.43% percent or +787.00  point. China's Shanghai  Composite is trading at 2,912.71 up with +2.12% percent or +60.36 point. India's BSE Sensex is trading at 33,578.35 up with +3.56% percent or +1,154.25 point at 12:15 PM.