The DAX Futures is trading at 13,609.50  with a loss of -0.68% percent or -93.10 point.The FTSE 100 Futures is trading at 7,372.00  with a loss of -0.54% percent or -40.20 point. The CAC 40 Futures is trading at 6,041.50 with a loss of -0.69% percent or -42.00 point.  The EURO Stoxx 50 Futures trading at 3,403.00 with a loss of -0.06% percent or -2.00 point.
TODAY'S FACTORS AND EVENTS
 it was a bullish day for the auto sector on Thursday. Daimler led the way rallying by 2.97%, with Continental rising by 1.42%. BMW and Volkswagen saw more modest gains of 0.43% and 0.01% respectively.
It was also a bullish day for the banks. Commerzbank rose by 1.05%, with Deutsche Bank gaining 0.04%.
Deutsche Lufthansa hit reverse, however, sliding by 2.40%, with Air France-KLM earnings results hitting the sector.
YESTERDAY ACTIVITY
For the day Germany's DAX closed at 13,664.00 with a loss of –0.91% percent or –125.00  point. the FTSE 100 closed at 7,436.64 with a loss of –0.27% percent or –20.38 point. France's CAC  40 closed at 6,062.30 with a loss of –0.80% percent or –48.94  point.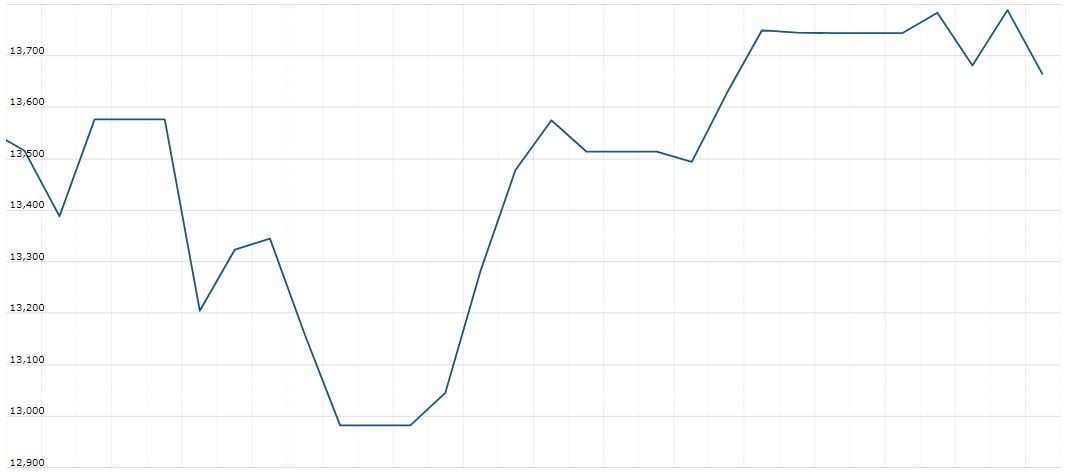 WORLD MARKETS
For the day the Dow is trading at 29,219.98 with a loss of –0.44% percent or –128.05   point. The S&P 500 is trading at 3,373.23  with a loss of –0.47% percent or –12.92 point. The Nasdaq Composite is trading at 9,750.96 with a loss of –0.67% percent or –66.21 point.
In other parts of world, Japan's Nikkei 225 is trading at 23,386.74 with a loss of –0.39% percent or –92.41 point. Hong Kong's Hang Seng is trading at 27,325.40 with a loss of  –1.03% percent or –283.76  point. China's Shanghai Composite is trading at 3,039.67 up with  +0.31% percent or  +9.51  point. India's BSE Sensex is trading at 41,170.12 with a loss of –0.37% percent or –152.88 point at 12:15 PM.