The DAX Futures is trading at 13,580.50 up  with +0.36% percent or +49.20 point.The FTSE 100 Futures is trading at 7,423.80  up with +0.56% percent or +41.30 point. The CAC 40 Futures is trading at 6,052.00 up with +0.62% percent or +37.00 point.  The EURO Stoxx 50 Futures trading at 3,812.00 up with +0.32% percent or +12.00 point.
TODAY'S FACTORS AND EVENTS
It was a mixed day for the auto sector. Daimler bucked the trend on the day, rising by 0.20%. Bearish for the rest, BMW and Continental fell by 1.13% and by 0.97% to lead the way down, while Volkswagen saw a more modest 0.55% loss on the day.
Continental found support off the back of news hitting the wires that the company planned to cut as many as 15,000 jobs in an effort to cut costs.
It was a bearish day for the banks, however. Commerzbank and Deutsche Bank fell by 0.95% and by 0.88% respectively.
YESTERDAY ACTIVITY
For the day Germany's DAX closed at 13,494.03  with a loss of –0.15% percent or –19.78  point.the FTSE 100 closed at 7,446.88 with a loss of –0.27% percent or –19.82 point. France's CAC  40 closed at 6,015.67 with a loss of –0.23% percent or –14.08  point.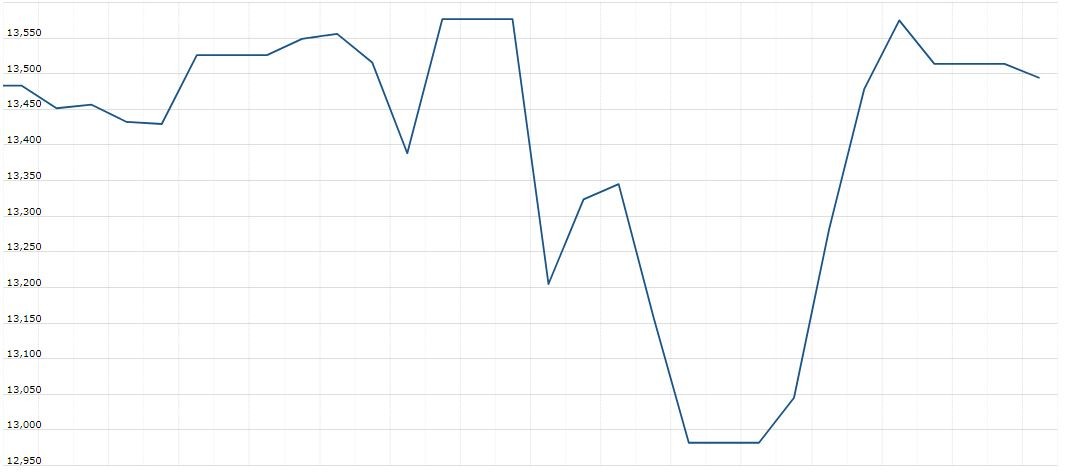 WORLD MARKETS
For the day the Dow is trading at 29,276.82 up with +0.60% percent or +174.31  point. The S&P 500 is trading at 3,352.09  with 0.73% percent or +24.38 point. The Nasdaq Composite is trading at 9,628.39 up with +1.13% percent or +107.88 point.
In other parts of world, Japan's Nikkei 225 is trading at 23,685.98  with a loss of –0.60% percent or –142.00 point. Hong Kong's Hang Seng is trading at 27,591.73 up with +1.29% percent or +350.39 point. China's Shanghai Composite is trading at 2,901.67 up with +0.39% percent or +11.19 point. India's BSE Sensex is trading at 41,303.61 up with +0.79% percent or +323.99 point at 12:15 PM.