The DAX Futures is trading at 13,458.00 with a loss of -0.10% percent or -13.80 point. The FTSE 100 Futures is trading at 7,551.00 with  a loss of -0.06% percent or -4.80 point. The CAC 40 Futures is trading at 6,033.50 with a loss of -0.03% percent or -2.00 point. The EURO Stoxx 50 Futures trading at 3,772.00 with 0.00% percent or 0.00 point.
TODAY'S FACTORS AND EVENTS
Wholesale prices in Germany decreased by 2.5 percent year-on-year in November 2019, after a 2.3 percent fall in the previous month. It was the biggest drop in wholesale prices since May 2016, amid declines in cost of petroleum products (-15.7 percent), waste and residual materials (-19.8 percent), cereals, raw tobacco, seeds and animal feed (-11.1 percent), and information, communication equipment (-7.8 percent). By contrast, prices increased for both live animals (23.7 percent) and meat and meat products (6.7 percent). On a monthly basis, wholesale prices fell by 0.1 percent in November, the same pace as in October.
YESTERDAY ACTIVITY
For the day Germany's DAX closed at 13,451.52  with a loss of -0.24% percent or -31.79  point.the FTSE 100 closed at 7,617.60 up with +0.39% percent or +29.75  point. France's CAC  40 closed at 6,036.14  with a loss of –0.016% percent or ?0.96 point.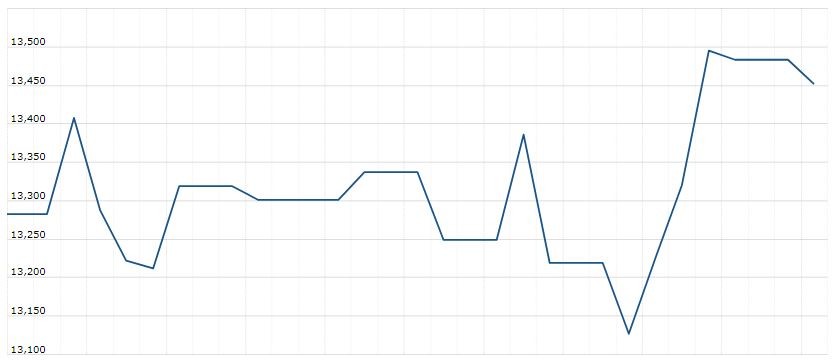 WORLD MARKETS
For the day the Dow is trading at 28,907.05 up with +0.29% percent or +83.28  point. The S&P 500 is trading at 3,288.13 up with +0.70% percent or +22.78 point. The Nasdaq Composite is trading at 9,273.93 up  with +1.04% percent or +95.07  point.
In other parts of world, Japan's Nikkei 225 is trading at 24,025.17 up with +0.73% percent or +174.60  point. Hong Kong's Hang Seng is trading at 28,885.30 with a loss of –0.24% percent or –69.64 point. China's Shanghai Composite is trading at 3,111.59 with a loss of –0.13% percent or ?3.98 point. India's BSE Sensex is trading at 41,890.85 up with +0.074% percent or +31.16 point at 12:15 PM.