The DAX Futures is trading at 12,692.50 up with +0.09% percent or +11.60 point.The FTSE 100 Futures is trading at 7,182.50  with a loss of -0.10% percent or -7.00 point. The CAC 40 Futures is trading at 5,616.50  with a loss of -0.66% percent or -37.50 point.  The EURO Stoxx 50 Futures trading at 3,590.00 up with 0.00% percent or 0.00 point.
TODAY'S FACTORS AND EVENTS
Deal news helped push London's top-flight index higher on Tuesday, with optimism over Sino-US trade relations also lending a hand, but the second-tier index was weighed down as Prime Minister Boris Johnson's Brexit deal faced its first parliamentary hurdle.
The FTSE 100 was up 0.68% at 7,212.49, while the pound was down 0.1% against the US dollar at 1.2952 and essentially flat versus the euro at 1.1625
Yesterday ACTIVITY
Germany's DAX closed at 12,754.69 up with +0.053% percent or +6.73  point.For the day the FTSE 100 closed at 7,212.49 up with +0.68% percent or +48.85 point. France's CAC  40 closed at 5,657.69 with 0.17% percent or +9.35 point.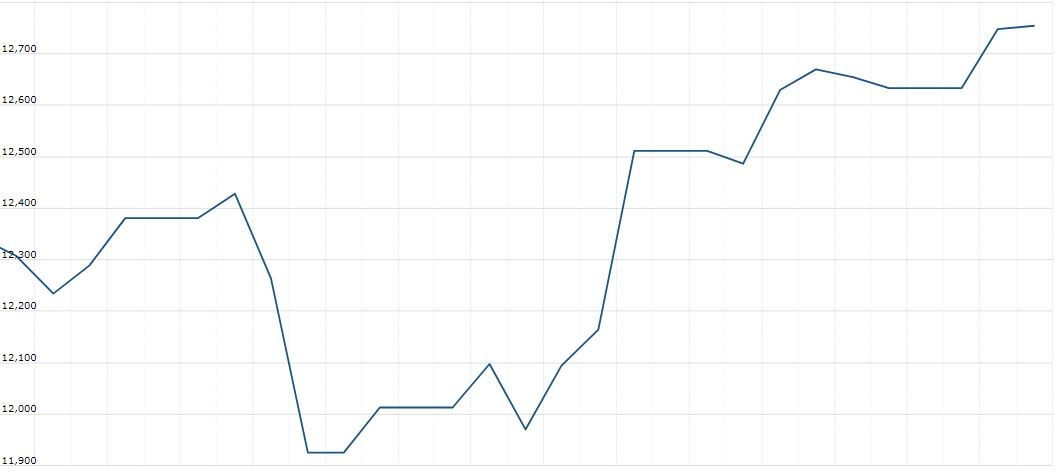 WORLD MARKETS
For the day the Dow is trading at 26,788.10 with a loss of –0.15% percent or  –39.54  point. The S&P 500 is trading at 2,995.99  with a loss of –0.36% percent or –10.73 point. The Nasdaq Composite is trading at 8,104.30  with a loss of –0.72% percent or –58.69 point.
In other parts of world, Japan's Nikkei 225 is trading at 22,625.38 up with +0.34% percent or +76.48 point. Hong Kong's Hang Seng is trading at 26,557.74 with a loss of –0.85% percent or ?228.46 point. China's Shanghai Composite is trading at 2,940.56 with a loss of –0.47% percent or –0.47%  point. India's BSE Sensex is trading at 39,138.96 up with +0.45% percent or +175.12 point at 12:15 PM.