The DAX Futures is trading at 12,348.20  with a loss of  -0.17% percent or -20.90 point.The FTSE 100 Futures is trading at 7,305.50 up with +0.17% percent or +12.50 point. The CAC 40 Futures is trading at 5,633.20 up with +0.20% percent or +11.20 point.  The EURO Stoxx 50 Futures trading at 3,530.00 up with ++0.11% percent or +4.00 point.
TODAY'S FACTORS AND EVENTS
The European majors hit reverse on Monday, with the CAC40 leading the way down with a 1.05% loss. Close behind were the DAX30 and EuroStoxx600, which fell by 1.01% and 0.80% respectively.
Futures had pointed to a testy start through the Asian session as the markets responded to Trump's comments from Friday. The U.S President had stated that he was not in any hurry to end the trade war ahead of next year's presidential election.
It was ultimately the stats that did the damage on the day, however.
Late in the European session, ECB President Draghi also spoke, though had a muted impact on the majors. Draghi reiterated the ECB's commitment to delivering support, whilst also highlighting continued uncertainties.
PREVIOUS DAY ACTIVITY
For the day Germany's DAX closed at 12,362.13 up  with +0.16% percent or +19.80 point.the FTSE 100 closed at 7,334.69 up with +0.12% percent or +8.61 point. France's CAC  40 closed at 5,643.38 up with +0.22% percent or +12.62 point.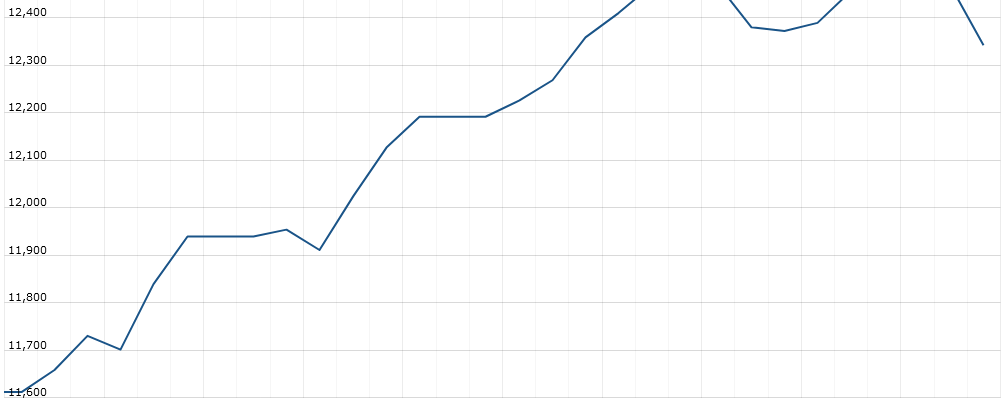 WORLD MARKETS
For the day the Dow is trading at 26,949.99 up with +0.055% percent or +14.92  point. The S&P 500 is trading at 2,991.78  with a loss of –0.0097% percent or –0.29 point. The Nasdaq Composite is trading at 8,112.46  with a loss of –0.064% percent or  –5.21 point.
In other parts of world, Japan's Nikkei 225 is trading at 22,098.84 up with +0.089% percent or +19.75 point. Hong Kong's Hang Seng is trading at 26,284.10 up with +0.24% percent or +61.70 point. China's Shanghai Composite is trading at 2,985.34 up with +0.28% percent or +8.26 point. India's BSE Sensex is trading at39,008.18 with a loss of  –0.21% percent or –81.85 point at 12:15 PM.