The DAX Futures is trading at 12,452.00  with  a loss of -0.03% percent or -3.50 point .The FTSE 100 Futures is trading at 7,559.50  up with +0.25% percent or +19.00 point. The CAC 40 Futures is trading at 5,378.32 up with 0.22% percent or +12.00 point . The EURO Stoxx 50 Futures is trading at 3,437.00 up with +0.15% percent or +5.00 point.
TODAY'S FACTORS AND EVENTS
The DAX index has posted strong gains in the Thursday session. Currently, the DAX is at 12,505, up 1.58% on the day. On the release front, German Factory Ordersjumped 2.6%, crushing the estimate of 1.1%. Eurozone Retail PMI ticked higher to 51.8 points. Later in the day, the Federal Reserve will release the minutes of the June policy meeting.
The escalating trade war between the US and the EU has raised concerns that the eurozone export sector could hit some significant headwinds. President Trump has threatened to impose tariffs of 20 percent on European car imports if the EU does not remove their tariffs on US automobiles. The EU would clearly prefer not to engage in a full-blown tariff war with the United States. European officials are examining the possibility of a tariff-cutting agreement between the world's largest car exporters. In essence, this would allow the EU and the US to reach a deal on automobile tariffs without going through the World Trade Organization. On Thursday, automobile manufacturers are sharply higher on the DAX index. BMW is up 4.97%, Daimler has climbed 4.58% and Volkswagen has jumped 4.79%.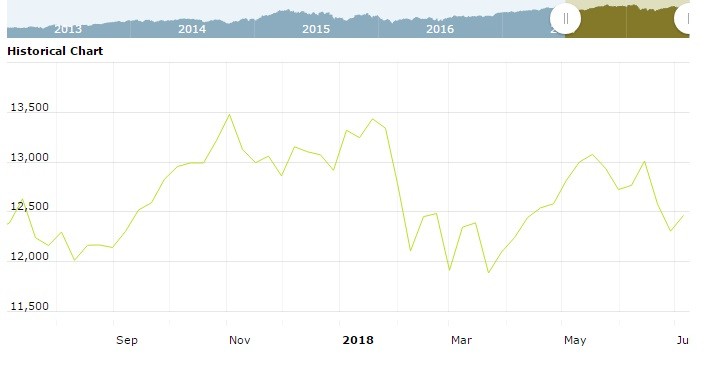 For the day Germany's DAX closed at 12,453.55 with a loss of -0.086% percent or -10.74 point. the FTSE 100 closed at 7,616.03 up with +0.17% percent or  +13.18 point. France's CAC 40 closed at 5,379.39

 up 

with +0.24% percent or +13.07 point. 
WORLD MARKETS
For the day the Dow is trading at 24,356.74  up with +0.75% percent or +181.92 point. The S&P 500 is trading at 2,736.61  up with +0.86% percent or +23.39 point. The Nasdaq Composite is trading at 7,586.43 up with +1.12%percent or  +83.75 point.
In other parts of world, Japan's Nikkei 225 is trading at 21,788.14 up with +1.12% percent or +241.15 point. Hong Kong's Hang Seng is trading at 28,324.14 up with +0.50% percent or 142.05 point. China's Shanghai Composite is trading at 2,747.23 up with +0.49% percent or +13.35 point. India's BSE Sensex is trading at 35,744.68 up with +0.47% percent or  +167.51 point at 12:15 PM.